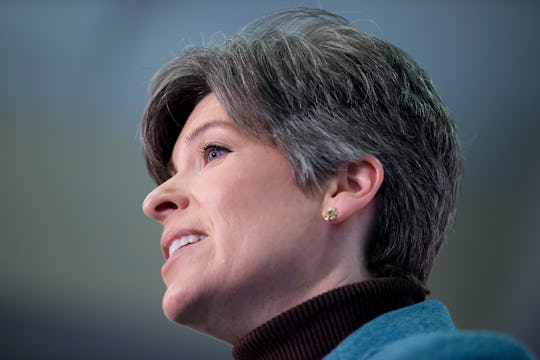 Scott Olson/Getty Images News/Getty Images
How Does Joni Ernst Know Donald Trump? She Turned Down VP Consideration
Joni Ernst is quickly becoming one of the most interesting women in politics. She's a first-term junior senator from Iowa, an Iraq veteran, and a mother who who said "thanks but nah" to the possibility of being tapped for the VP slot on this year's presidential ticket. But tonight, Ernst will take the stage during primetime on the first night of the Republican National Convention to give a high-profile speech on national security. How does Joni Ernst know Donald Trump? The GOP rising star met with Trump to discuss the vice presidency in early July before taking herself out of the running.
"I made that very clear to him that I'm focused on Iowa," Ernst said following her meeting with Trump. "I feel that I have a lot more to do in the United States Senate. And Iowa is where my heart is I'm just getting started here."
She did offer her services as an "advocate" and said she would happily campaign on Trump's behalf, Politico reported. The presidential candidate has decided to take her up on the offer with Monday night's high-profile speaking slot at the convention.
The retired National Guard lieutenant colonel will lend some much-needed gravitas to the night's speaker lineup, which also includes Duck Dynasty's Willie Robertson, Charles In Charge teen heartthrob Scott "Chachi" Baio, and Melania Trump, all under the theme of "Make America Safe Again" according to the GOP convention program. Former Texas Gov. Rick Perry's glasses and #BlackLivesMatter hater and former NYC Mayor Rudy Giuliani will also be making an appearance in Monday night's lineup.
Ernst gave a little tease of her comments at a barbecue event called "Make 'em Squeal" in reference to the Senator's wild, and wildly popular, campaign ad where she compared her experience castrating hogs to working in Washington, according to the Omaha World-Herald.
If you haven't seen the ad yet, do yourself a favor and take the time to watch.
"And if we elect a Hillary Clinton as president, we will continue to see more of the same failed policies in addressing this terrorist threat," she said according to the World-Herald, "And it is an extreme Islamist terrorist threat. But our administration refuses to call it as such. They need to step up to the plate because only when they recognize what a threat it is can we actually start to do something about it. So we need to regain our place in the world again as a global leader."
Ernst dismissed concerns that Trump lacks the experience and education to be president and said he knows much more than he's letting on, according to the World-Herald. She added that, during her meeting with Trump, he was able to convince her that he has an adequate understanding of foreign affairs.
"But what he wants to make sure is that we're putting America first, that we're keeping America safe," Ernst said.
This isn't Ernst's first high-profile, national speaking gig on the GOP's behalf. She gave the Republican response to President Obama's State of the Union address in 2015.