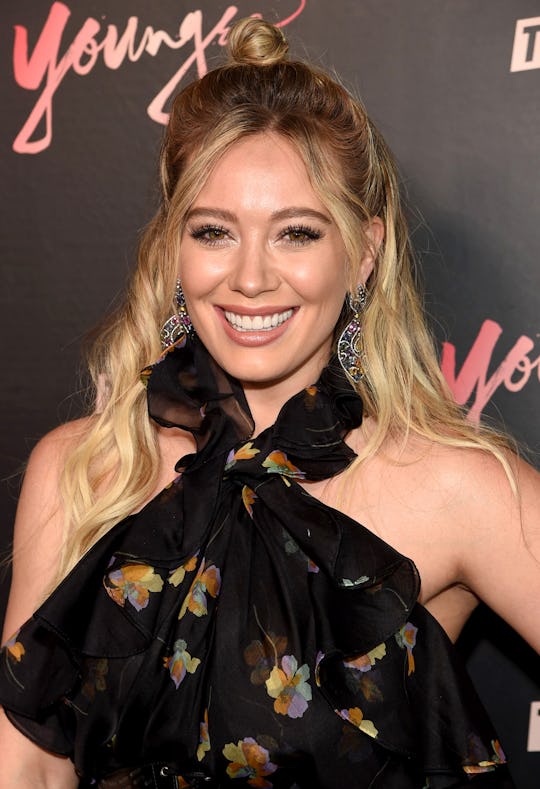 Jamie McCarthy/Getty Images Entertainment/Getty Images
Baby #2 For Hilary Duff Will Be Here Before You Know It
It's hard to believe that Hilary Duff will soon welcome her second child. Ever since she revealed she's expecting a baby girl with her boyfriend, Matthew Koma, Duff has been keeping fans updated about both the joys and pitfalls of pregnancy. But now that it's been a few months, fans must be wondering: How far along is Hilary Duff now?
Ever since she made her big announcement in June, according to Entertainment Tonight, Duff's Instagram has been filled with pictures of her adorable bump and anecdotes about her second pregnancy. These photos have become such a mainstay on her account that fans have gotten used to them (and can't get enough of them). But, these updates will soon come to an end and be replaced with photos of her baby girl, when she does arrive.
And that change could be coming very soon. Although Duff has never publicly stated her due date, she has publicly stated how far along she is, according to Page Six. Just last week, Duff took to Instagram where she posted a video of her talking to a cameraman who had been following her. "I politely asked him to let me be and he continues to follow me and stalk me down like prey for hours now," Duff wrote in the caption of the post.
"This is not OK," Duff wrote. "I am nine months pregnant."
There you have it. She is, or very close to, nine months pregnant. And that means she could be giving birth any week (or day) from now.
But, according to Duff's Instagram post from this past week, her baby is "still cooking," and she didn't let it stop her from getting fruit from a roadside stand over the weekend, according to Just Jared.
"I feel so blessed to have my son and now to have the gift of a daughter!," Duff wrote in the Instagram Post. "I don't know what I did so right! #waitingonyouB"
Although Duff's daughter isn't here yet, it is very obvious that she wants to meet her ASAP. Throughout her pregnancy, Duff has been very honest about how hard this pregnancy has been on her. Duff wrote in an Instagram post from July:
This journey is hard as hell and also incredibly special. Lovely to have a little life inside and to day dream of all the new adventures to come buuut almost impossible to get my own shoes on...sick of getting up nine times a night to pee and looking at this weird body in the mirror that is not my own at the moment.
And in mid-August, Duff was demanding on her Instagram Story that her baby "hurry it on up," according to E! News, because her due date was approaching. It's been a little more than a month since Duff posted that Instagram Story — so if she was excited to meet her little girl then, it's hard to imagine how she must feel now.
But Duff isn't the only one ready to meet her new addition — Duff's 6-year-old son Luca (who she shares with her ex-husband, Mike Comrie) is looking forward to becoming a big brother, too, according to People, even if Duff said he is a little apprehensive. Duff told People:
He's sweet now. When we say goodbye, he always says goodbye to her. And he wants to feel her kicking. It's really sweet. I think he's a little nervous about sharing his toys and stuff like that, but he doesn't realize that they're not going be the same thing.
Luca will come to his senses soon enough when his little sister arrives, whenever that may be.