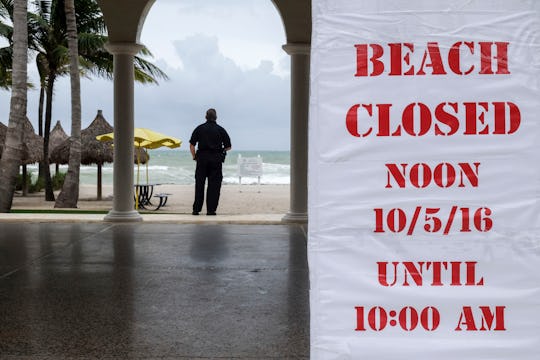 GASTON DE CARDENAS/AFP/Getty Images
How Fast Are The Winds In A Category 4 Hurricane? Matthew Is A Serious Threat
Hurricane Matthew, the strongest storm to surge through the Atlantic in a decade, has already plowed through the Caribbean and left more than 100 fatalities in its wake. As Haiti, Cuba, the Bahamas, and other beleaguered nations reel, residents in some areas of Florida, Georgia, North Carolina, and South Carolina are under orders to evacuate fast as the Category 4 hurricane heads in their direction. "This storm will kill you," Florida Gov. Rick Scott said Thursday as he implored people to get out. The damage, both to human life and property, has the potential to be catastrophic because of flooding and unimaginably strong winds. And just how fast the winds of a Category 4 hurricane are should be enough of an incentive for residents of affected areas to defect to safer ground.
According to NBC News, Matthew is expected to make landfall or near-landfall between West Palm Beach and Cape Canaveral, Florida, between 3 a.m. and 8 a.m. local time Friday. And when it does, there will be no question as to why Disney World has shut down for only the fourth time in it's 45-year history and 3,500 National Guard troops have been deployed to help evacuate the 1.5 million Floridians who have been ordered to leave: 145 mile per hour winds are projected to accompany Hurricane Matthew when it makes landfall.
ABC News suggests that people keep a full tank of gas in the car when a evacuation is imminent, that families evacuating separately agree on a place to meet outside of town in case they're unable to reach one another or get separated during the storm, that the evacuees make sure family and friends know where they are and where they're going, and make lists of belongings left behind for insurance reasons. Despite the official warning to clear dangerous areas, though, some residents either cannot or will not do so.
"People do not seem to get it and are not leaving," Martin County, Florida, Sheriff William D. Snyder told NBC News. "I'm not saying this to be theatrical ... I asked my captain of detectives if he had body bags, because if we get 140 mile-per-hour winds in mobile home parks, we are going to have fatalities."
Alice Saulsby, a 75-year-old resident of Jacksonville, Florida, said that she and her husband won't evacuate the area because the endeavor would prove simply too expensive for their fixed income, according to CNN.
"Everything is ultimately in God's hands," Saulsby told the outlet.
In addition to battering winds (that Gov. Scott has announced could hit a staggering 150 mph), Florida is bracing itself for storm surges up to nine feet and widespread power outages, USA Today reported.
Once the storm has come and gone, it's all but certain that there will be massive devastation to deal with, communities underwater, and homes destroyed. That's an awful prospect, but the end result will be even worse for people who do not vacate the affected areas as instructed. The winds of a Category 4 hurricane are viciously fast — and to avoid them, people living in danger zones need to get out of there even faster.