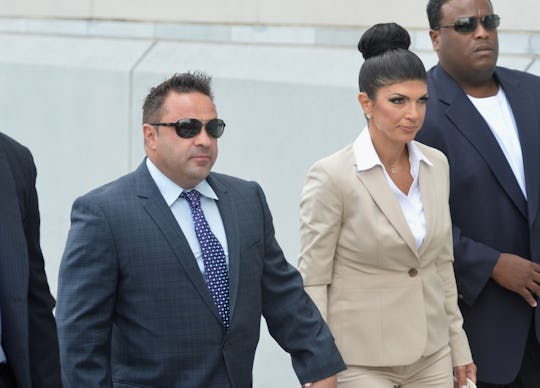 Mike Coppola/Getty Images Entertainment/Getty Images
How Is Joe Giudice Doing In Prison? He's Taking It One Day At A Time
I've never been to prison, so I only have Orange is the New Black to go on for reference, but I imagine that it is not fun, to say the least. When Teresa and Joe Giudice were indicted for their legal woes (which played out in the public eye), fans were obviously curious about how they would fair in prison. Teresa is out now, but how is Joe Giudice doing in prison? Reports on Joe's well-being come out about twice a week these days, most of them different. So, to put it one way, he's adjusting.
According to ET, Joe is doing alright. The site says they had Teresa's sister-in-law Melissa Gorga interview her about Joe, in which Teresa gives us a pretty upbeat status report on her husband. She says that they are taking it one day at a time and that Joe is trying to stay positive. She also says that he's working on those six-pack abs he promised her, by working out and dieting. It also looks like they've had little trouble keeping the romance alive. She can't wait for him to be home so that they can "fall in love all over again." And according to E! News, the family lawyer James J. Leonard Jr. said that while of course Joe misses Teresa and the girls enormously, he is staying strong.
Of course, some of the other updates on Joe are not quite so rosy. Us Weekly reports that Joe is struggling, and of course there is that concern that he could be deported following his prison sentence. Technically, Joe is an Italian citizen, and it's possible that he will have to move to Italy once he is released. Though it was reported that Joe became fast friends with fellow Real Housewife husband, Apollo Nida, who is serving his sentence in the same facility, Radar Online reports that Joe has started keeping his distance from Apollo, as Apollo is allegedly a prison trouble maker, and was reportedly caught with a contraband cell phone.
Honestly, it sounds like Joe is doing everything right in there. He may not turn into the zen yogi that Teresa became, but keeping his head down, staying a model prisoner, and taking things a day at a time is probably the best possible move at this point.