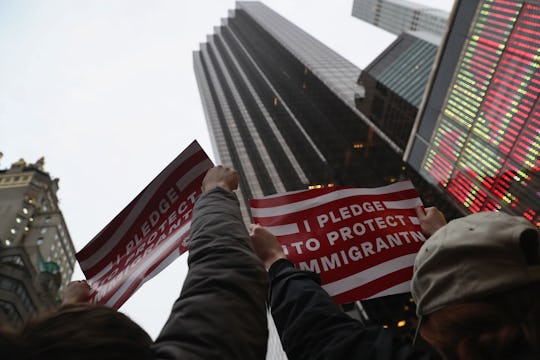 John Moore/Getty Images News/Getty Images
Here's The Length Of The Women's March On NYC
President-elect Donald Trump's inauguration is only two days away, and for those who aren't exactly pleased about that fact, it also means that the chance to participate in the Women's March on Washington is only three days away. In addition to the main march, smaller sister marches have been organized in every state — and in New York City, participants will actually end their march at Trump Tower, according to Curbed New York. How long is the Women's March on NYC? The entire march is about 1.22 miles long from start to finish, though crowd size restrictions mean that groups will actually be marching all day long.
Even though the Women's March on Washington is meant to be less of a protest about Trump specifically, and more about people coming together in support of women's rights and general civil liberties, the fact that Trump will have just been sworn in certainly won't be far from anybody's mind. And in New York City, where Trump lives (and where his wife and youngest son will continue to live for the remainder of the school year, according to CNN), it'll be especially noticeable. Unsurprisingly perhaps, the crowd is expected to be big: according to the website for the Women's March on NYC, as many as 100,000 are expected to participate on Saturday, with 76,000 people already registered.
The March on NYC is scheduled to begin at 11:00 a.m., at 1 Dag Hammarskoljd Plaza, located at 48th St. and 1st Ave. Marchers will travel South on 2nd Avenue to 42nd Street, then west on 42nd Street to 5th Avenue, and finally north on 5th Avenue to Trump Tower. But not everyone intending on participating should actually arrive then: in order to ensure the event isn't shut down by NYPD, organizers have staggered the start times among 16 different groups.
The first group will consist of those who pre-registered as part of a group, and whose lead organizer's last name begins with A-F. The first group will also be the only group able to physically attend the rally that will take place beforehand, at 10:45 a.m., although it will be live-streamed for everyone else who would like to watch. The rest of the groups will follow at the designated time slots, then those who registered as individual marchers will also start. The final group, scheduled to begin marching at 4:00 p.m., will be comprised of anyone who did not pre-register, with anyone remaining leaving at 4:15 p.m.
For those with accessibility issues, event organizers have deemed all major intersections as access/exit points for the march, and volunteers are available to assist pushing wheelchairs. American Sign Language Interpreters will also be available at the rally point, as well as at each medical site, and seating will be available on a first-come-first-served basis.
For more information about the Women's March on NYC, visit the event website, or the march's Facebook event page. Anyone looking to register can do so at the march's Eventbrite page, and a printable Google Doc FAQ can also be accessed here.