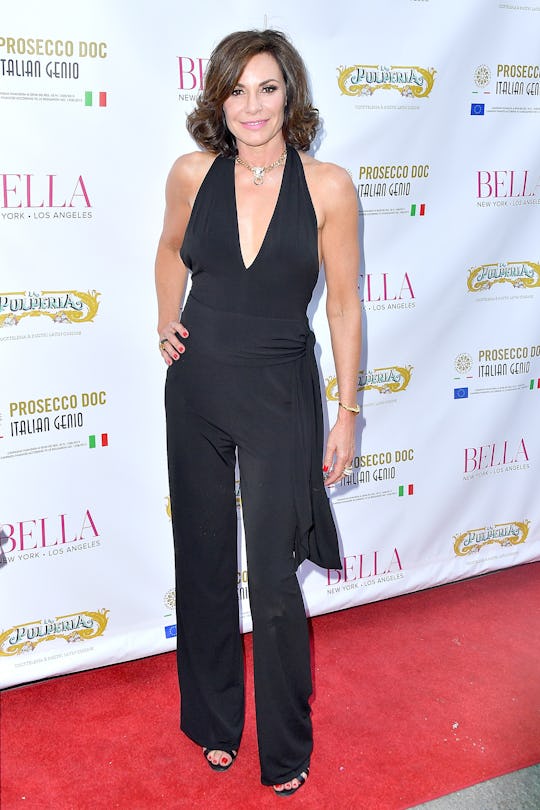 Michael Loccisano/Getty Images Entertainment/Getty Images
Here's What We Know About Luann de Lesseps' Short Rehab Stay
The Real Housewives of New York is down one cast member for its three-part reunion show, due to Luann de Lesseps' decision to check back into treatment just ahead of taping. Fellow cast mate Bethenny Frankel revealed that, amidst a stressful lawsuit brought against Luann by her children, the RHONY star had begun drinking alcohol again. Given her absence from the reunion, fans may be wondering: how long will Luann be in rehab? She left her Connecticut treatment facility a month ago and is back on the road with her #CountessAndFriends cabaret tour.
According to E! News, Luann left rehab on Thursday, August 2, less than three weeks after first checking herself in. An anonymous source told the outlet that she was jumping right back into rehearsals for her show, planning a performance at the Paramount in Long Island just two days later. She'd also planned a performance at the Borgata in Atlantic City, New Jersey at the end of August. The source told E!:
"She will be spending the day tomorrow rehearsing her cabaret show before Saturday's performance. Luann knows there will be a lot of eyes on her this weekend, but she is healthy, feeling well, in good spirits and is ready to put on a great show for her fans."
The week before she checked out of rehab, Luann posted a teaser video of her cabaret show on Instagram, thanking her fans for their support and releasing her upcoming tour dates. Her return to the spotlight, however, will likely raise some eyebrows; the Real Housewives agreed during the reunion show that the notoriety from doing #CountessAndFriends was at least partly responsible for derailing Luann's sobriety.
Bethenny also claims during the reunion that a gathering of people had staged an intervention of sorts with Luann the weekend before she decided to check back into rehab. She released a statement on Luann's behalf back in July, ahead of the reunion show taping, explaining her decision. Bethenny's statement, according to People, read:
This weekend, Luann was surrounded by her girlfriends and decided — with their support — that in light of recent circumstances, it is the healthiest choice for her not to attend Tuesday's reunion taping so that she can continue in her healing process. Luann is now surrounded by a core group of people who truly have her best interests at heart and who are working to make sure she gets the help she needs. Bravo has been very supportive of Luann during this time. It's a brave and honest decision by her, and everyone is rallying around her and wants the best for her.
For their part, Bravo was fully supportive of Luann's decision to skip filming, following up with a statement of their own, saying:
Bravo supports Luann's decision to focus on her health. She is part of the Bravo family and we continue to stand by her as she copes with this challenging situation. At this time, we hope everyone will respect her privacy.
The final part of the RHONY reunion show airs Wednesday, September 5.