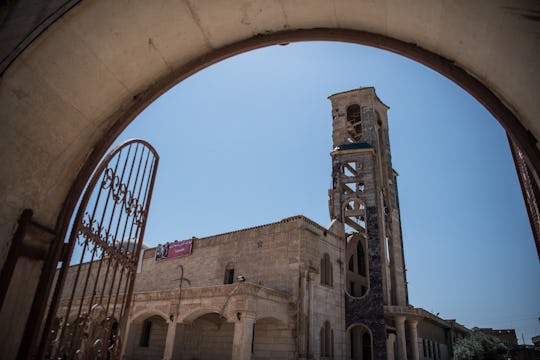 Carl Court/Getty Images News/Getty Images
105 Civilians Were Killed In The Mosul Air Strike
According to Yahoo News, a new investigation conducted by the Pentagon found that 105 civilians were killed in the Mosul air strike against ISIS in March, although officials said the number of deaths was due in part to the secondary detonation of ISIS explosives. According to officials, an American aircraft delivered and detonated a bomb inside an ISIS-controlled building on March 17 in order to kill two snipers located there. However, the explosion then set off a number of ISIS explosives that were stored there, leading to the building's collapse and the death of 101 civilians sheltered in the building's lower floors.
U.S. Air Force Brigadier General Matt Isler, who led the investigation, told Yahoo News that the resulting explosion also killed four civilians in a structure nearby, as well as the two snipers that were the original targets. According to officials, neither Iraqi forces nor the coalition knew that there were civilians sheltered within the targeted building. Another 36 civilians remain unaccounted for, but Isler said they likely left the building before the air strike occurred.
Only six people survived the blast, according to The Guardian, and rescue efforts reportedly did not take place until four days after the strike due to dangerous conditions.
With a death count of 105 civilians, the March 17 strike was the deadliest coalition-led incident for civilians since anti-ISIS operations first began in Syria and Iraq in 2014. According to The Guardian, the air strike's high death toll actually makes it the deadliest attack to take place in Iraq since 2003.
"Our condolences go out to all those that were affected," Major General Joe Martin said in a statement on Thursday. "The Coalition takes every feasible measure to protect civilians from harm. The best way to protect civilians is to defeat ISIS."
According to The Guardian, American officials said that, during the investigation, nearly 700 hours of footage were reviewed from the jets that dropped the 500-pound bomb on the Mosul building. Investigators were also sent to the site after the strike, where they found residue from explosives that were inconsistent with the bomb dropped by the coalition.
According to the BBC, the Syrian Observatory for Human Rights said 35 more civilians were killed in a U.S.-led air strike in Syria on Thursday. The organization said families of ISIS members, including several children, were killed in the strike.
Over 580,000 civilians have fled Mosul since Iraqi forces first launched their operation to recapture the city from ISIS in October, according to the BBC, but civilians continue to make up a large number of those killed in the conflict. According to Al Jazeera, U.S.-backed Iraqi forces claim that they're in the final push for control of the city. For the sake of the civilians still trapped in western Mosul, hopefully that final phase will be over soon.