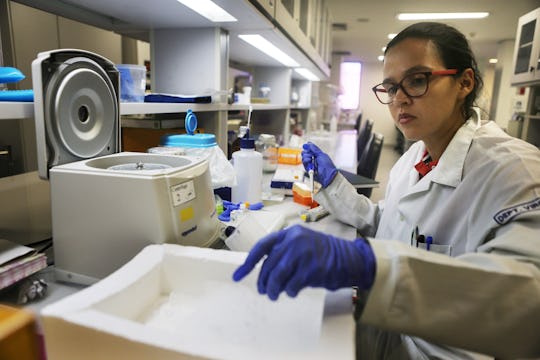 Mario Tama/Getty Images News/Getty Images
How Many Clinics Are Available To Treat Zika Patients In Brazil? The Country Is Preparing
The Rio 2016 Olympics in Brazil are right around the corner. The much-anticipated Games, which take place Aug. 5-21 and Sept. 7-18, have people around the world ready and anxious to tune in. But preparation for the Games has also come with controversy considering Brazil was the center of the Zika virus outbreak in early 2015. The virus has since affected some 50 countries and territories, and has been uncovered to cause microcephaly and other severe birth defects. It would be interesting to know how many clinics are available to treat Zika patients in Brazil. The virus still has many concerned – 150 health professionals wrote an open letter calling for the Games to be postponed in May.
But that same month, the World Health Organization released a statement declaring it would not be necessary to move or cancel the Olympics in Brazil in fear of the Zika virus:
Based on current assessment, [canceling] or changing the location of the 2016 Olympics will not significantly alter the international spread of Zika virus. Brazil is 1 of almost 60 countries and territories which to date report continuing transmission of Zika by mosquitoes. People continue to travel between these countries and territories for a variety of reasons. The best way to reduce risk of disease is to follow public health travel advice.‌
As for available clinics, one site, compiled by the Foreign & Commonwealth Office and updated this month, compiled a list of hospitals and medical facilities in Brazil, and Rio de Janeiro specifically. This specific list counts 16 medical facilities in Rio de Janeiro with varying specializations. But according to the CDC, for Zika contractions – which is transmitted by mosquito bite and by sexual contact – most people infected with the virus won't have symptoms, or will have mild symptoms. The CDC also noted that there is no specific medicine for Zika, and a blood or urine test can confirm the virus' infection.
As for preemptive methods to minimize the virus' spread by mosquito bite, Ty Votaw, the PGA Tour's chief marketing officer and vice president of the International Golf Federation, told ESPN that the golf venue, for example, is monitoring the water around the golf course.
We are working to make sure that there is movement in the water in those lakes and ponds. A form of reverse irrigation can be used to make sure the water is not sitting, doesn't become stagnant.
The Center for Disease Control & Prevention listed recommendations for travelers going to Brazil. The organization recommends that travelers visit a clinic, among other preparation tips, at least four to six weeks prior to visiting Brazil. The Games will take place in Brazil's winter months, therefore making the weather not as mosquito-friendly. But the CDC still recommends that travelers wear long-sleeved shirts, and long pants, and wear mosquito repellant. But for pregnant women, the CDC recommends that they don't attend the Games at all.