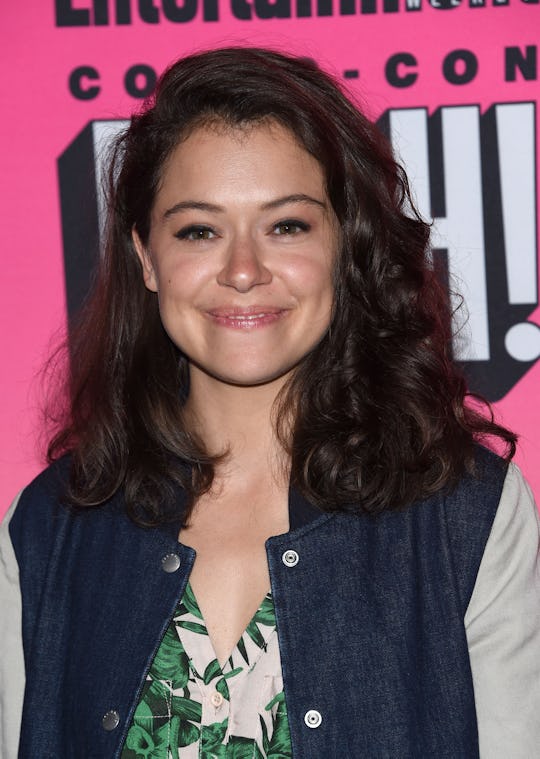 CHRIS DELMAS/AFP/Getty Images
How Many Emmys Has Tatiana Maslany Won? She's Nominated Again This Year
The Emmys are almost upon as and with every year it seems the same shows and actors get nominated while others get snubbed. Back in 2014 it was Tatiana Maslany, lead actress on Orphan Black, that was snubbed when she didn't even get an Emmy nomination. However, last year she received her first nomination and this year she's got another under her belt but how many Emmys has Tatiana Maslany actually won? Unfortunately none yet, but this year may just be her year.
This year Maslany has been nominated for the multiple roles she plays on Orphan Black, including Sarah, Alison, Cosima, Helena, Rachel, and Krystal, to name a few. If this seems confusing you probably haven't seen Orphan Black before. The show centers around clones and Maslany plays all of them, which is a big feat since she often has to do scenes just with herself. From jumping between characters to sometimes having to play one character pretending to be another character (for example Sarah having to take the place of Alison), it's a wonder how Maslany is able to keep it all together, much less do it so well. But she does. That's why it's so amazing to see her finally getting the recognition she so truly deserves.
For some reason it's always been difficult for sci-fi shows to break into the Emmys. Political dramas and high fantasies like House of Cards and Game of Thrones are often the top Emmy contenders and sci-fi shows tend to be shut out. However, this is the second time that Maslany has been nominated for her role and though it may seem small it is a step in the right direction for sci-fi dramas getting the recognition they truly deserve.
This year Maslany is up against Taraji P. Henson (Empire), Robin Wright (House of Cards), Keri Russell (The Americans), Viola Davis (How to Get Away with Murder), and Claire Danes (Homeland). Although the competition is stiff, Maslany has had an incredible season on Orphan Black this past year and she definitely has a shot at winning. Here's to hoping this year she comes out on top.
Tune in to ABC on Sept. 18 at 8 p.m. EST to watch the 68th Primetime Emmys.