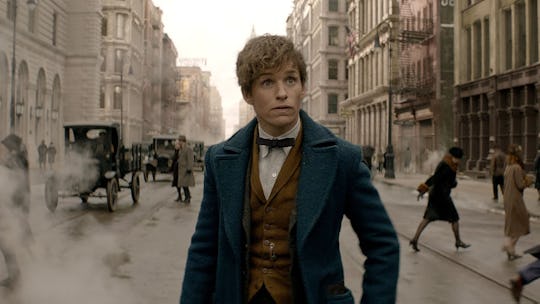 Warner Bros.
How Many 'Fantastic Beasts' Films Will There Be? J.K. Rowling's News Will Please Fans
Good news, fellow Harry Potter fans! We're not set to run out of new Potterverse material any time in the near future. We knew going in that the upcoming Fantastic Beasts and Where to Find Them, starring Eddie Redmayne as magizoologist Newt Scamander, would be the first in a series. But just how many Fantastic Beasts films are coming? At a global fan event ahead of Fantastic Beasts' release, we got that answer – and it was a good one. J.K. Rowling announced that the new film would actually be the first of a five-part collection of films. Yes, that's right – we're getting FIVE more movies set in Rowling's Wizarding World.
Back in February, Rowling had announced that the Fantastic Beast story would span a trilogy of films. She'd tweeted that news in response to a fan, who thought that the new Harry Potter and the Cursed Child play would be turned into a movie as well. Unfortunately, as Rowling said, that's not the case. For now, anyway, because let's be real – there's no way that they'll NEVER turn Cursed Child into a movie of its own, somewhere down the line. Just my two cents.
This news of an expansion into five films shouldn't come as a total shock, however. Prior to Rowling's trilogy announcement, in October of 2014 Warner Bros. CEO Kevin Tsujihara said at a Time Warner investor's conference that the series would be "at least a trilogy." Now, with Rowling's announcement, we've gotten firm confirmation that there will be exactly five films in this particular series within the larger Potterverse – no more, no less.
Some fans were understandably struggling with the concept of a hard cap at five, but luckily, Rowling was on hand to calm folks down and set them straight in no uncertain terms. Actually, it was kind of hilarious.
That wasn't the only major announcement made at the same fan event. Director David Yates teased that while the first film would follow Newt in New York City, the second movie (currently slated for a November 16, 2018 release) would be set in "another global capital city," though he remained quiet on what city that might be, and that "it would be very different." He also said that the upcoming first film in the series would feature cameos from young versions of Dumbledore and his frenemy Gellert Grindelwald. ALL THE YES.
The first film in the series, starring Redmayne alongside co-stars Katherine Waterston, Alison Sudol, Jon Voight, Colin Farrell, and Dan Fogler is a prequel, set 70 years prior to the events of the first installment of Harry Potter. It's set to hit theaters on November 18.