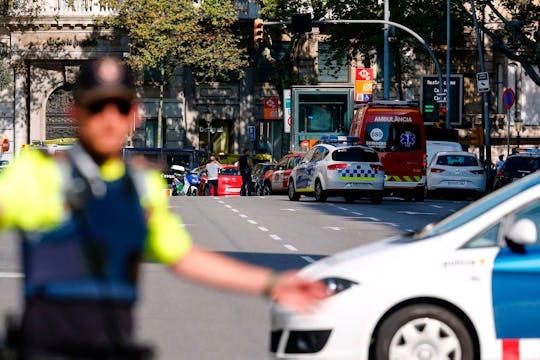 PAU BARRENA/AFP/Getty Images
The Attack In Barcelona Is Now A Hostage Situation & Here's What You Should Know
Early Thursday afternoon reports indicated that a "white van" mounted a sidewalk and struck several people in Barcelona's Las Ramblas district, according to USA Today. Las Ramblas is a popular tourist destination, Spanish police say, and continued reports indicate the tragic situation is far from over. According to The Sun, a U.K. news Company, armed men have taken hostages in a nearby restuarant. So how many hostages are there in Barcelona? While the situation is still developing, early reports are nothing short of terrifying.
UPDATE: According to The Associated Press, Police in Spain are calling the Barcelona van incident a terror attack, and local media report up to 13 people have died.
PREVIOUSLY: The Sun reported, "Metro lines have been shut and shoppers and pedestrians have been seen running into buildings as armed police flooded the area." Spanish police are also urging people to avoid the area. According to CNN, the Spanish police say the crash is "most likely a terror attack" and are treating it as such. TVE — a Spanish state-run media — reported that at least one person has died and an additional 20 people have been injured as a result of the attack. The El Pais newspaper said the "Clinical and Provincial Hospital in Barcelona is treating three injured by the incident," according to USA Today. However, and sadly, early reports indicate more victims will need medical treatment.
El Pais is also reporting, according to The Independent, that "perpetrators are holed up in an nearby bar. Some local media have reported bursts of gunfire." At this time no early reports can clearly indicate just how many hostages the perpetrators have taken, so it's unclear as to how many innocent lives are at risk. El Pais did say, however, that the "driver of the vehicle has fled on foot after mowing down dozens of people," so it's unclear at this time if the perpetrators holding people hostages are the drivers of the white van and/or were in the white van during the initial terrorist attack.
What is clear, however, is just how terrifying the initial attack was. Early eyewitness reports, highlighted by CNN, paint a harrowing scene; one of chaos and fear. Susan McClean told CNN that she saw a "tidal wave" of people running away in the aftermath of the attack. "There was clearly a lot of distress," McClean said, detailing her efforts to escape any additional attacks by ducking into "a nearby shop," the shutters "pulled down while police sped towards the scene."
Videos and pictures (which Romper is choosing not to share) are already in circulation, showing bodies lying on the street, including what appear to be children. Other eyewitness accounts describe a hostage situation, as well as initial efforts by others— including a local church — to provide food and water to locals and tourists alike.
Until more information is available, the world once again mourns another terrorist attack and loss of innocent lives. Together.