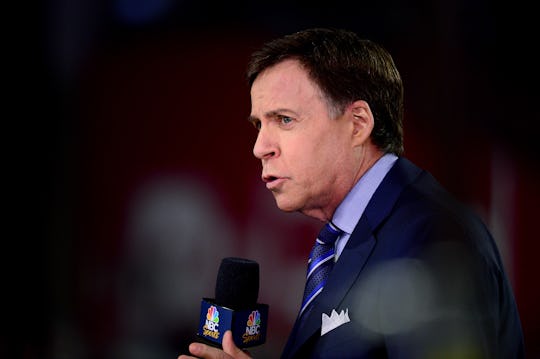 Jennifer Stewart/Getty Images Sport/Getty Images
How Many Olympic Games Has Bob Costas Anchored? He's About To Host His 11th
The world's finest athletes will surely be making history at the 2016 Olympics in Rio de Janeiro this year, but what about the guy millions of viewers at home have seen on their television screens for years, who's been at the center of everything? That would be NBC's Bob Costas. He's been the network's face of the Olympics for decades and has become one of the most recognizable and respected voices of the games in general. In fact, some might be asking themselves: How many Olympic Games has Bob Costas actually anchored? The 64-year-old legendary sportscaster has served as NBC's primetime host for every Olympics since 1992.
On Aug. 5 — the opening ceremony for the Rio Olympics — Costas will begin to anchor his 11th Olympic games. But, if you count the time when Costas served as NBC's late night host, before nabbing the primetime slot, at the 1988 Seoul Games, it would actually be his 12th time providing exquisite athletic coverage.
"The Olympics are a unique television event," Costas said in an NBC press release in February. "They involve classic sports coverage, of course, but also many elements of storytelling and travelogue aspects that are not as much a part of the typical sports broadcast. In a way, the Olympics are a three-week mini-series which, if done well, should bring viewers not only memorable athletic performances, but a sense of the host city and country, and an appreciation of what is a truly global gathering."
Costas' Olympic coverage and sports interviewing has made history. One prime example? That would be back in February 2014, when he hosted the Sochi games. Costas battled a very noticeable eye infection that year, which forced him to wear glasses instead of his normal contact lenses until it spread to both eyes and ultimately rendered him unable to continue his coverage — The Today Show's Matt Lauer had to fill in for him, alongside Meredith Vieira, who became the first woman to anchor NBC's primetime Olympic coverage.
His past coverage has made it clear that Costas is an incredibly talented newscaster who has no problem telling it like it is. He even has his very own NFL trading card:
Not only does the world know that Costas is amazing, but so does NBC Olympics executive producer Jim Bell who said, "there is no one better than" Costas to anchor one of the most watched events.
Bell said in a NBC press release:
"For a quarter-century, Bob has been NBC's pilot of primetime at the Olympics, and over that span, the scope of our coverage has constantly evolved, with Rio set to become the most live event in U.S. television history. Given his vast experience and uncanny expertise, simply put there is no one better than Bob to tell the stories of the athletes, take our viewers inside the world's biggest sports event, and introduce them to one of the most spectacular cities on the planet."
After more than three decades on air, Costas told Sports Illustrated that he'll treat each Olympics after Rio on a "case-by-case basis."
"I'll decide [to step aside] or we will decide mutually when the time has come to step aside," Costas told Sports Illustrated in May. "And that time will be before my ability to do it has diminished."
Costas has won 26 Emmy Awards for sports, news, and entertainment throughout his career. And while his spot in the Olympics will eventually come to an end, he's provided viewers with almost too many memorable moments, like when he had pink eye on national television or when he tried attempted to break the record for the world's largest bubblegum bubble. A true professional who knows how have a bit of fun, after all.
Bob Costas, we salute you and your amazing coverage, and can't wait to see you again in the coming days.