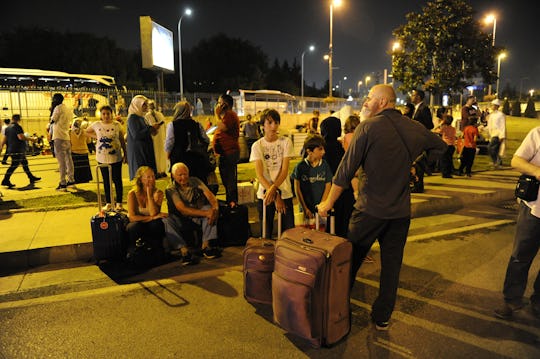 Gokhan Tan/Getty Images News/Getty Images
How Many People Were At The Istanbul Airport When The Attack Happened? It's A Major Hub
At least 28 people were killed, with more than 60 injured, after two explosions went off at the largest airport in Istanbul, Turkey, on Tuesday evening. As details of the attack emerge and emergency services race to treat those injured, many are wondering just how many people were in the Istanbul airport when the attack happened. While the exact number of people has not been released (and it would likely be hard to know precisely), Ataturk Airport has been a major transport hub in Europe for some time.
Update, 7:17 p.m. ET: Istanbul's governor says at least 31 people were killed in the Istanbul Ataturk airport attack, and at least 60 were wounded, according to the Associated Press. Authorities believe there were three suicide bombers.
As the 11th largest airport in the world, it has a high capacity for foot traffic and operates internationally. According to Bloomberg, it's also one of the top three busiest airports in the world, only falling behind London's Heathrow Airport and Paris' Charles de Gaulle, with over 61 million visitors in 2015. The BBC reported that Ataturk Airport has been seen as a concerning target for terrorism for a while now — while the airport had X-ray scanners at terminal entrances, security checks on cars were limited.
Details are still emerging concerning the attack, but it appears that no bombs were detonated inside the actual airport buildings. According to CNN, one of the bombers was on the pavement just outside the international terminal, while the other was at the airport's entrance.
According to the BBC, at least three attackers were involved, with one attacker opening fire with a Kalashnikov before detonating himself. According to The New York Times, police confronted two suspected attackers and fired shots at them, after which the two attackers detonated themselves. At this early stage, it's looking like it was a major coordinated attack.
There's been speculation that the attack may have been an ISIS response to one of two things, according to The New York Times. It could be a reaction to the recent announcement of a deal to restore diplomatic relations between Israel and Turkey, or a response to Turkey's role in Syria's current conflict. At the moment, no groups have claimed responsibility for the attack.
Currently, all roads have been shut down heading to and from the airport, and the subway system has been closed. This is the latest attack of several recent attacks in Turkey, some of which have been attributed to both ISIS and Kurdish separatists, according to The International Business Times. At the moment, the danger seems to have passed, but this latest attack, along with Istanbul's other recent terrorist attacks, is expected to impact tourism to the city.