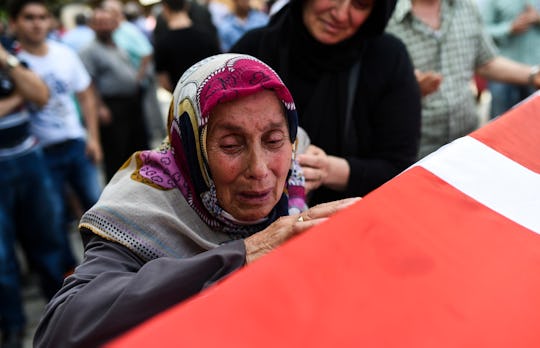 BULENT KILIC/AFP/Getty Images
How Many Terrorist Attacks Have There Been In Istanbul This Year? It's Often Targeted
Though not the capital, Istanbul is Turkey's largest city. It attracts many international tourists which, unfortunately, makes it a magnet for terrorists that are looking to promote worldwide fear. Shopping centers and busy streets are targeted, hurting both local and international victims. The most recent attack at Istanbul's Ataturk Airport begs the question—just how many terrorist attacks have there been in Istanbul this year? According to The New York Times, there have been four terror attacks in Istanbul alone, with a total of 14 attacks in Turkey altogether. These attacks, all horrifying in their own right, range in scope and scale.
As intel on a new attack unfolds, images of the carnage floods Twitter. Speculation as to who is responsible circulates. The number of reported dead and injured fluctuates as local law enforcement attempts to get a grasp on the magnitude of each specific incident, working to give aid as well as protect. In the midst of all this wondering, it can be difficult to separate one attack from the other. Even months afterward, the exact statistics and factors blend together. The following summarizes where the four Istanbul attacks were located, who was hurt, and which terror groups are believed to be connected.
Jan. 12: Tourist Area (10 Killed, 15 Wounded)
A Syrian, suicide bomber killed 10 tourists in the ancient capital of Sultanahmet, according to the New York Times. This attack occurred near the Blue Mosque—a famous, religious landmark for the region. Blending in among patrons on a bus, the bomber wore an explosive vest. All of the people killed were foreign visitors, nine of whom were German and one of whom was Peruvian. Though ISIS did not claim the attack, Turkish prime minister Ahmet Davutoğlu stated that the bomber was connected to the Islamic State.
March 19: Tourist Area (4 Killed, 36 Wounded)
In a busy, central shopping center, four shoppers were killed by a suicide bomber, according to Reuters. Three Israelis and one Iranian died in the blast. Of the 36 wounded, over a dozen were foreigners. The attacker, who died in the blast, detonated the bomb on a side street. Investigators claim that this was by accident, as the bomber intended to cause more damage by detonating in a more populous area. Authorities identified the attacker as a Turkish nationalist connected to ISIS.
June 7: Tourist Area (11 Killed, 36 Wounded)
During rush hour, a car bomb killed seven policemen and four civilians at a traffic-heavy intersection near a tourist area, according to the BBC. Istanbul Gov. Vasip Şahin explained that the bomb detonated at the exact moment when a bus of policemen drove by. Nearby streets and buildings were destroyed by the blast. This attack was claimed by an offshoot of the PKK (Kurdistan Workers Party).
June 28: Ataturk Airport (43 Killed, 239 Wounded)
Ataturk Airport has suffered the highest amount of casualties of the 2016 Istanbul attacks. Three suicide bombers ambushed the international terminal and a parking deck with bombs and gunfire, killing 43 travelers and wounding over 200, according to NBC. Though there has been no direct claim, authorities believe that ISIS orchestrated the attack. According to CNN, Turkey has detained 22 people who might have been involved in planning or carrying out this act of terror.
Though varied in scale, the attacks in Istanbul poses many common themes: suicide bombings, tourist centers, and connections to ISIS. Turkish authorities continue to investigate the most recent attack in order to prevent future attacks of this nature from occurring.