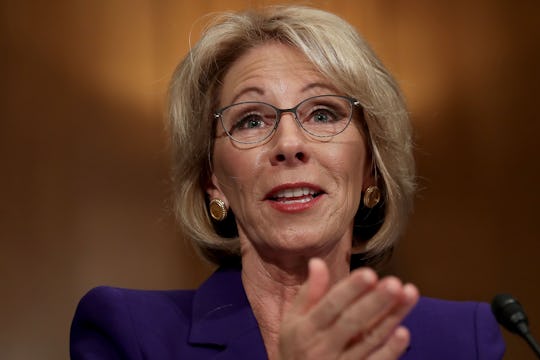 Chip Somodevilla/Getty Images News/Getty Images
Parents Should Educate Themselves On Common Core
Most parents with school-aged children know what a nightmare homework help can be. Particularly when you've probably forgotten half of whatever you learned in school yourself (like this girl right here). But it's what we do as parents, to stay engaged and aware of what our kids are learning at school. As a new secretary of Education is being confirmed, parents need to be more informed than ever. Here is how parents can educate themselves on Common Core — a topic that's bound to come up in the coming days.
According to the Core Standards website, the Common Core State Standards are a "way to establish clear, consistent guidelines for what every student should know and be able to do in math and English language arts from kindergarten through 12th grade." Forty-two states, the District of Columbia, and four territories, and the Department of Defense Education Activity (DoDEA) have all chosen to adopt the Common Core Standards. These were set by educators and experts to ensure students would be prepared for college, workplace training programs, and entry-level careers. While Common Core was created as an effort to ensure all students in America would have standardized guidelines to follow to help them succeed in school, it has become a controversial issue in recent years. Some critics believed the concept of standardized learning didn't take the way students learned as individuals into account, and several states have revised or replaced Common Core since adopting the initiative.
President Trump has, as ever, made his feelings clear on the subject of Common Core State Standards. Throughout his presidential campaign he often said he planned to "get rid of Common Core." While the president does not, in fact, have the power to categorically end such a massive initiative, his choice for secretary of Education, billionaire Betsy DeVos, agreed with him. During a speech in Michigan in December, DeVos said:
It's time to make education great again in this country. This means letting states set their own high standards and finally putting an end to the federalized Common Core.
So here's the problem with that: First of all, states already have the power to set standards. It's called the Common Core State Standard, and as incoming secretary of Education, DeVos might want to employ a quick Google search ahead of speeches on the subject. Second of all, DeVos was once a supporter of the Core Standards. She sat on the board of trustees for the Great Lakes Project, strong Core supporters. It was only after she was nominated that she came out against Common Core.
For parents trying to understand the Common Core Standards adopted by their state, the website provides a "Standards by your State" page, as well as a comprehensive "Myths vs. Facts" section. For instance, while some parents may worry that the standards set in the Common Core are a federalized curriculum (as DeVos seems to believe), the website clarifies:
The federal government will not govern the Common Core State Standards. The Common Core was and will remain a state-led effort. The NGA Center and CCSSO are committed to developing a long-term governance structure with leadership from governors, chief state school officers, and other state policymakers to ensure the quality of the Common Core and that teachers and principals have a strong voice in the future of the standards. States and local school districts will drive implementation of the Common Core.
The reality is, the Common Core State Standards are here to stay for the moment. We parents are better off educating ourselves rather than waiting for politicians to inform us.