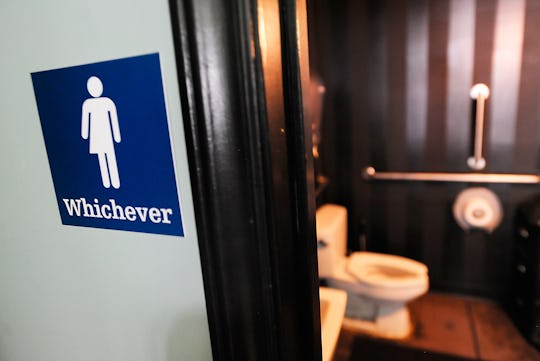 Sara D. Davis/Getty Images News/Getty Images
Parents Can Protest Trump's Trans Protection Lift
President Trump has lifted recommendations that were put in place by former President Obama to protect transgender youth in public schools throughout the U.S. The recommendation was sent to all public schools last year, urging administrators to allow trans youth to access bathrooms and locker rooms that aligned with their gender identity rather than biological sex. Trump has lifted this recommendation and the threat of lost funding for noncompliance, but many are protesting his decision. Here's how to protest Trump's transgender bathroom protection lift both online and off, because now is not the time to remain silent.
We know that suicide and self-harm rates among youth in the LGBTQ community are four times greater than rates in straight youth. By adulthood, 40 percent of trans individuals report having made a suicide attempt, with 92 percent saying their first attempt was before the age of 25, according to The Trevor Project. One of the hopes behind Obama's recommendation to public school systems was that by allowing trans students to access the spaces they felt safest in, it would reduce the likelihood that they would be at-risk for bullying and violence. Young people spend more hours in school than anywhere else, and for LGBTQ youth, whether it's a safe space for them or not can make all the difference. Fortunately, there are many programs and organizations that work to support trans youth, and you can support their efforts by donating your time, money, or resources.
Volunteer For Helplines
As we know from statistics, trans youth are at-risk for suicide and self-harm behaviors. Organizations like Translife, a help line that offers support to trans youth in crisis, need your support now more than ever before. LGBTQ helplines have been overwhelmed as of late, and most of them are staffed by volunteers and rely on donations to stay operational.
You can become a helpline volunteer if you're over 18, or donate to Translife via their website.
Donate However You Can
One of the first resources and support organizations for LGBTQ youth, The Trevor Project, also offers a crisis helpline — but for the phone shy, youth can also text support volunteers, or use a chat service called Trevor Chat. Like Translife, you can donate to The Trevor Project, become a crisis line volunteer, or organize events in your area. The organization also hosts regional events in cities all over the U.S.
Join Your Local School Board
One thing you can do today, and in your own community, is get involved with the school board that governs your kid's school. The superintendents office should be able to direct you to members of the school board, and a list of meetings would be posted on your child's school's website. You should also be able to call the superintendents office for your child's school district to find out when the next meeting is.
Whether you attend in person to discuss continued protections on behalf of schools in your community, write a letter to the school board, or make a call to your state representative, voicing your support matters.
Spread The Word
As a hub of resources, the National Center for Trans Equality is a good starting point if you're trying to help direct someone to information about rights, actions, and laws. You can, of course, always volunteer your time or donate money, but another important action to take now is helping to spread the information, either in real life or through your social media channels.
Trans youth especially may not realize that they have rights, that they are protected under Title IX, and that there are resources available to them no matter what their needs are, where they live — or whether or not they've told their friends and family that they are trans. Helping to spread trustworthy and actionable information is always a worthy pursuit, especially if you have a broad network to leverage. It might not seem like a big help to send a tweet, but you never know who will see that tweet in their timeline — perhaps even just when they need it most.
Talk to Your Kids (& Your Friends) About Allyship
One of the most valuable things you can do right now is commit to being an ally for the LGBTQ community. Being an ally to trans youth in the wake of Trump's rollback will be especially vital if you are an educator — but everyone can support youth, whether they work in a school or not.
What does it mean to be an ally? Here are some allyship tips from GLAAD:
Check your bias. You can't know someone's gender identity just by looking at them. Someone who is trans doesn't necessarily look a certain way, and you can't assume that if you're in a public space, there are no trans people present with you.
Ask about pronouns. When you're meeting someone, pay attention to how those they know refer to them. If you aren't sure, it's okay to ask what pronouns they prefer. Really, this is a good practice to get into the habit of, because it isn't just trans individuals who may have the wrong pronouns used — non-binary folks often face this challenge in social settings as well. When you're being introduced, it might be easier to start the conversation by sharing your preferred pronouns first. If you accidentally use the wrong pronoun, apologize, correct yourself — but don't make a huge deal out of it.
Stay in your lane. Don't ask prodding questions or questions that erase a person's identity. Asking things like "What's your real name?" isn't just intrusive, it's also disrespectful, and erases that person's identity. If you knew someone before they transitioned, don't share their birth name or any photos of them from that time. Be mindful of privacy, and keep information confidential. Being "out" in the trans community isn't the same as it is for someone who has "come out" as gay. Many people in the trans community do not share that they are trans — and they aren't required to.
Listen and learn. You can educate yourself about allyship — whether it's being an ally to the LGBTQ community, people of color, or other marginalized groups. It's not someone else's responsibility to teach you how to be a good ally. The best way to learn is by being aware of, and checking, your internal bias and working from there. A lot of questions you have will be answered just by being involved, by being supporting, and stepping back to observe. Allyship is about action, not words: if you say you're an ally that means little without action. Whether that means you donate your time, money, or resources, or you become a volunteer, or you are just a kind, patient, and present force in a friend's life, remember that allyship isn't about you.
Now is an important time to speak out against Trump's lift of an order that only made schools safer for kids with different gender identities. Everyone deserves access to safe education and acceptance.
For more information regarding trans youth rights and the "bathroom bills", check out GLAAD's report here.