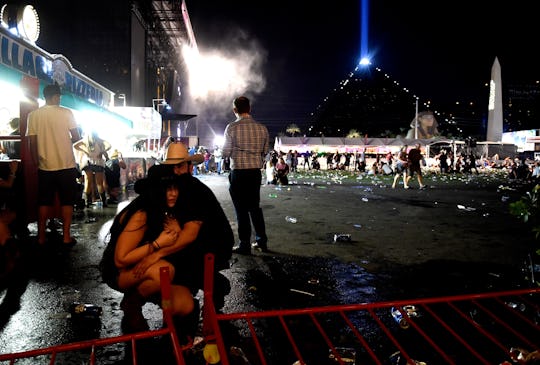 David Becker/Getty Images News/Getty Images
Here's How To Change Your FB Profile Picture To Show Solidarity With The Las Vegas Attack Victims
Late Sunday night into early Monday morning, the world woke up to their phones pinging and buzzing with some of the most upsetting and tragic news to date. More than 50 people were killed and hundreds more were injured after a lone gunman opened fired at an outdoor country music festival held at a Las Vegas Hotel, NBC News reported. Authorities have since called it the deadliest mass shooting in modern American history. In horrific times like these, it's hard to find an immediate way to support the victims and show that you are with them right now. But, there is one way you can show your solidarity: Change your Facebook profile picture for the Las Vegas attack victims and their families.
Update: As of 6 p.m. ET on Monday, Oct. 2, CNN reports that 59 people have died and over 500 people were injured. Authorities say the suspect had 18 additional firearms, explosives and several thousand rounds of ammo at his home in Mesquite, Nevada.
Earlier: After other recent attacks — such as the Manchester bombing at an Ariana Grande concert or the van ramming in Barcelona — people everywhere took to Facebook to do just the same. And in the aftermath of Sunday's shooting, you can do the same to show your support and condolences for the victims who died or were injured in the attack.
Here's how: Simply go to your Facebook profile page and click on your current profile pictures, where it says "Update Profile Picture." From there, you'll see frames and filters you can choose from. Select one that has been created and it will immediately alter your current profile photo with an image or overlay supporting the Las Vegas victims.
As more details come to light and the victims have been attended to, it's likely that Facebook and others will create one specific filter for this horrific event to show the world's solidarity.
However, in the immediate aftermath of the attack, Facebook has prompted a safety check-in for those in the area, so their loved ones can know that they are not in danger. To see if your friends and family in the Las Vegas have marked themselves as safe, you can access the page here. On this page, you can mark yourself as safe and check which of your Facebook friends have marked themselves as such. On the right-hand side of the page, you'll be able to see which friends have and have not yet posted.
Although a specific Facebook filter for the Las Vegas shooting is still on it's way, people and celebrities have taken to Instagram to share photos of the Vegas strip, with the hashtag #LasVegas trending on the social media site.
Country star Jason Aldean — who was onstage performing for the Route 91 Harvest Festival as the massacre took place — posted a heartfelt message with a photo that said, "Pray for Las Vegas." He wrote:
Tonight has been beyond horrific. I still dont [sic] know what to say but wanted to let everyone know that Me and my Crew are safe. My Thoughts and prayers go out to everyone involved tonight. It hurts my heart that this would happen to anyone who was just coming out to enjoy what should have been a fun night. #heartbroken #stopthehate
While changing your Facebook picture and posting on social media are small and immediate ways to show your support for the victims who've lost their lives or have been injured in Sunday's attack, it's important to remember that it's not enough. Thoughts and prayers won't prevent another massacre from happening on American soil.
Especially for those closely impacted by the Las Vegas shooting, it may be hard to think about politics and policy right now. But, if urging your representatives to save the nation's health care worked three times already, then advocating for more comprehensive gun safety laws couldn't hurt.
Change your Facebook profile picture, share a "Prayer for Las Vegas" meme on Instagram, and pick up your phone to call your representative who have the power to push legislation forward that could prevent senseless tragedies like this from happening again. These are three simple ways you can stand in solidarity with the Las Vegas shooting victims.
Watch Romper's new video series, Romper's Doula Diaries:
Check out the entire Romper's Doula Diaries series and other videos on Facebook and the Bustle app across Apple TV, Roku, and Amazon Fire TV.