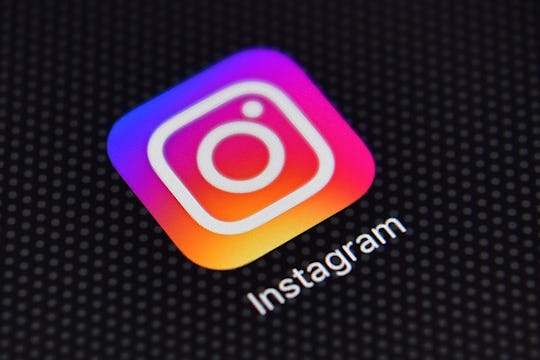 Carl Court/Getty Images News/Getty Images
Here's How To Do Rainbow Text On Instagram To Celebrate Pride
June 1 marked the kickoff of Pride month, where we celebrate the LGBTQ community. There will be parades, and the flying of flags, and hopefully a general feeling of support and inclusion throughout the month and beyond. And of course, people will be celebrating and sharing their support on social media. This year marks a bit of a change when it comes to sharing your support for the LGBTQ community on social media, and Instagram is leading the pack. If you want to show your support, here's how to do rainbow text on Instagram, not to mention a few other fun tricks that will make Pride feel even more fun. So get ready to spend the month of June covered in rainbows... what could be better than that?
Instagram announced last month that it would be launching a whole series of rainbow-themed options as of June 1, including a rainbow background in text mode for Instagram Stories, rainbow hashtags, mentions, stickers, and even a rainbow version of the signature gradient symbol are available. You will also be able to take a rainbow selfie, and because these options are available on Instagram you know they're going to be super easy to use.
If you want to do rainbow text on Instagram, it's remarkably straightforward. All you have to do is:
Select text
Press and hold any color you want in the color tray and it will automatically open the rainbow palette
(Now here's where it gets just a touch tricky, but I'm sure you're quite dextrous so you'll be ok) Simultaneously using two hands, drag one finger across the text you want to switch to rainbow and the other across the rainbow palette. But go slowly.
Taking a rainbow selfie is even easier than rainbow text. Head to the Stories section, hit Type, add text, and then move on to the camera icon to in the lower right corner to create a translucent filter.
In a recent press release, Instagram wrote that this June, it wanted to do more to celebrate Pride than simply share hashtags and rainbow selfies, however:
This year, we've seen young leaders step up like never before, raising their voices and organizing around the initiatives and causes that matter most to them.
To that end, the social media sharing site brought together five young leaders in the LGBTQ community with their role models for conversations "about their lives, their work and how they inspire people to be open and connect with others," according to the press release. People are encouraged to mention their role models in Instagram Stories and how they inspire them as well. Instagram is working with GLAAD to find hashtags that help members of the LGBTQ community and plan to attach a rainbow gradient to these hashtags as identifiers.
There are still plenty of fun tricks to play with on Instagram for Pride month, of course. My personal favorite? Showering rainbow hearts, as described in the Instagram press release:
In Live, each time you tap the heart, you'll see a different color of the Pride rainbow — and holding down will send a shower of rainbow hearts to the person you're watching as well as everyone who's watching along with you.
There are so many ways to celebrate Pride month and show your support, but here's the reality; rainbow text, selfies, hashtags, and mentions have a massive impact. Social media can spread any kind of message a person wants to spread quicker than anything else.
So why not use it to spread a message of inclusion, of acceptance, of support and love? It's not the worst idea in the world.