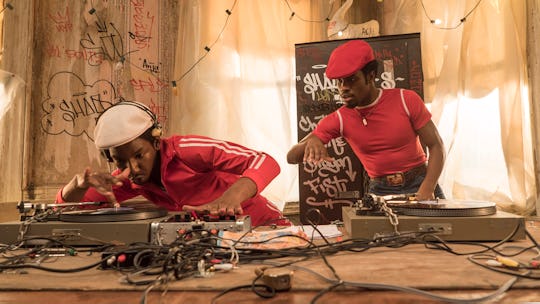 David Lee/Netflix
How To Download 'The Get Down' Soundtrack Because You Are Going To Want To Listen To This
Netflix's new, highly anticipated series, The Get Down, will premiere its first six episodes on August 12. The series' fantastic soundtrack will also debut on the same day. For a series all about music and the birth of hip hop in The Bronx in the late '70s, the music for this show is basically guaranteed to be killer. So how can you download The Get Down soundtrack? Don't worry, it's not going to be impossible to download.
According to Entertainment Weekly, the show will have musical contributions from a ton of celebrity powerhouses including Grandmaster Flash and Jaden Smith, who star in the show, as well as from its producer, Nas. Miguel, Christina Aguilera, Zayn, Michael Kiwanuka, Leon Bridges, Raury, Nile Rodgers, Malay, Emilie Haynie, as well as the stars of the show, among others will all also be providing musical contributions to create an epic musical score to match the premise of the show. Like Luhrmann's other works, including Romeo + Juliet and Moulin Rouge, the show will be part comedy, part drama, part musical, and all spectacular. In the way that Moulin Rouge infused over-the-top renditions of pop classics into the story, The Get Down will do much of the same. It's important, therefore, that the jams be impeccable.
As of August 5, the soundtrack is available for pre-order, and is currently set for exclusive release via Apple Music on August 12. So while no, you will not have to download Tidal (or renew your Tidal subscription) as with a Kanye West or Beyonce release, you won't be able to simply add it to your Spotify playlist either. The album currently costs $13.99 on iTunes. Already available for purchase are two tracks, "Cadillac," by Miguel, and "Black Man in a White World," by Michael Kiwanuka, each ready to download for $1.29 a pop.
It's too early to say whether or not the album will ever be made available on Spotify, or whether Netflix will go the way of Taylor Swift, and never release on the streaming platform. While soundtrack playlists have been created on Spotify for other Netflix series like Stranger Things, The Get Down will be different because it incorporates a lot of original music. So if you don't want to take your chances with Spotify, I'd head to Apple Music to pre-order. Because this album is sure to be fantastic.