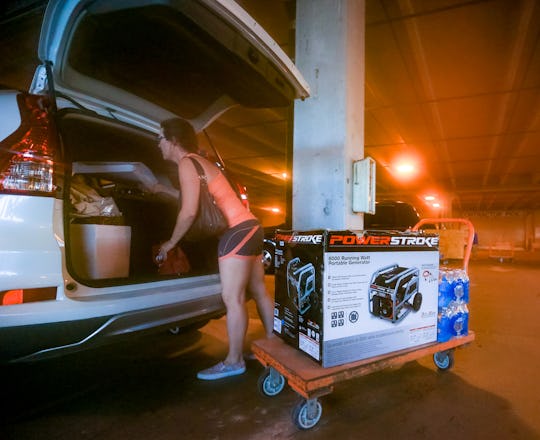 Rob Foldy/Getty Images News/Getty Images
How To Find Temporary Daycare In An Evacuation, Because Parents Are Are In A Tough Bind
Hurricane Matthew is churning out in the Atlantic and making its way toward Florida and the southeastern coast of the U.S., causing governors of Florida, North Carolina, South Carolina, and Georgia to declare states of emergency along with mass evacuations of people in the storm's path. But what about parents who still need to get to work despite the impending storm? How can you find temporary daycare in an evacuation?
According to the latest from ABC News, more than one million people have been ordered to evacuate coastal areas as Matthew approaches. In Florida, 1.5 million residents have been told to evacuate, and both Miami-Dade and Broward counties have canceled school for the rest of the week.
Across Georgia 50,000 residents are currently under an evacuation order, and South Carolina Gov. Nikki Hayley just announced an expanded area of evacuation to include about 500,000 people.
One mom on Twitter, who asked not to be identified and didn't want to comment further for fear of losing her job, said that since schools were closed for the rest of the week where she lived due to Hurricane Matthew, she had to either find emergency child care or beg for time off work to take care of her kids.
That's a tough spot for anyone to be in.
Luckily, thanks to technology, there are tools available to help find emergency child care services, like Care.com. A spokeswoman for the company said parents could absolutely post a job for a babysitter in an emergency. Of course there's no guarantee you'll get a response, but you could make an offer too good to refuse.
The real solution, of course, isn't paying even higher prices for child care in a desperate situation. It's unacceptable for parents to be put in these circumstances, particularly during a natural disaster. We need to provide some sort of child care safety net for every parent in America.
That should include mandates that employers make allowances for things like school closures during natural disasters. No mom should have to sweat "begging" for time off to keep her kids from harm. That's just common sense.
There's also the issue of access. Where can parents go when they desperately need child care in the most dire of emergencies? Often, children are put in unsafe conditions, like cars, or left by themselves for long periods of time, because their mothers have literally no other option.
This country desperately needs daycare that is available to parents in emergency situations like when they need to gather supplies for impending mega storms, or go to a job interview to keep a roof over their heads. There should be a safe place for their children. And the options available today are shockingly few.
Tough times put pressure on everyone in a community. But for parents without a child care safety net, getting trough the storm can seem impossible.