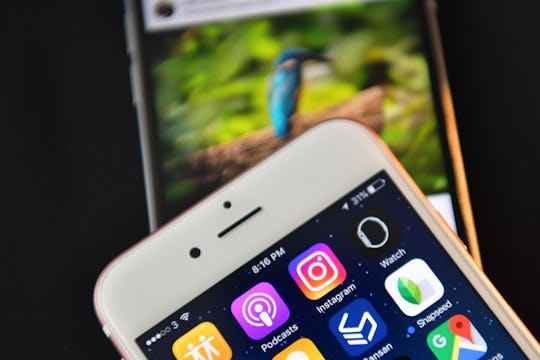 Carl Court/Getty Images News/Getty Images
You Can Now Go Live On Instagram *With* A Friend, & Here's How To Do It
Ever think that your banter with your long distance BFF is just so funny that all of your friends deserve to tune in? The newest Instagram update released today has made it so you two can host your own social media talk show — well, kind of. Here's a primer on how to go live with a friend on Instagram, because you'll want to get all the details so you can start using the new feature ASAP.
In a press release from the company, Instagram shared that, starting Tuesday, Oct. 24, at 9 a.m. PT (12 p.m. ET), users can invite friends to join live broadcasts. And don't worry — you can still utilize face filters while going live with friends; those adorable koala faces and flower crowns are here to stay.
Honestly, going live with a friend seems a lot easier than choosing the right amount of "lux" or picking the perfect Insta caption. Users simply have to open their cameras and tap "Start Live Video." Then, your run-of-the-mill Instagram live broadcast commences, and all of your followers can watch your stream.
Then, to bring a friend along for the ride, tap the two faces icon next to the comment text box. A pop-up then emerges, informing: "Choose someone. People who can see their live videos will be able to watch." You can either search for someone or choose from your most frequently interacted with friends, and then send out your invitation. Your friend is then notified of the live video possibility, and can either accept or decline the request. Should your friend accept, the Instagram live video morphs into a stacked, dual-screen, showcasing both parties — filters and all. Both of your sets of followers can interact, liking and commenting, too.
If you're ready to yell "cut" on your dual-streaming, "you can remove your guest and add someone else at any time, or they can also choose to exit on their own," according to Instagram. And then once your broadcast is done, you can either share it with your followers or you can choose "Discard."
Instagram said of the feature back in August when it was still testing it out:
Live video helps you share in an authentic way, but sometimes it can be intimidating when you're on your own ... Since introducing live video in November, millions of people have used it to connect with friends and followers in an authentic way. Now, you can have even more fun connecting with people in the moment.
Aside from how you and your friends want to use the feature, its possibilities for extra cool collabs are seemingly limitless. What if musicians use the tool to harmonize on acoustic covers of their music? Or if fitness Instagrammers tag-team live workouts together? Hey — maybe someone can convince a couple of Kardashians to confirm their rumored pregnancies on Instagram Live (you know, seeing as they totally haven't yet).
As fun as going live with friends does seem, every social media development has its dangers and drawbacks, so proceed with care and caution while getting your live broadcast on. Accidental Instagram live streams can be embarrassing, to put it mildly, and even dangerous when taken to certain extremes. Just make sure that when you choose to go live with a friend, or when your kids opt in to go live, that it's intentional and in a totally safe environment, relatively distraction-free.
Instagram just keeps upping its live video game, differentiating itself from Snapchat in unprecedented ways. Whereas the two platforms once seemed identical, Instagram streaming is totally fresh. And having a friend join in? Nobody's really done that before, either.
Watch Romper's new video series, Romper's Doula Diaries:
Check out the entire Romper's Doula Diaries series and other videos on Facebook and the Bustle app across Apple TV, Roku, and Amazon Fire TV.