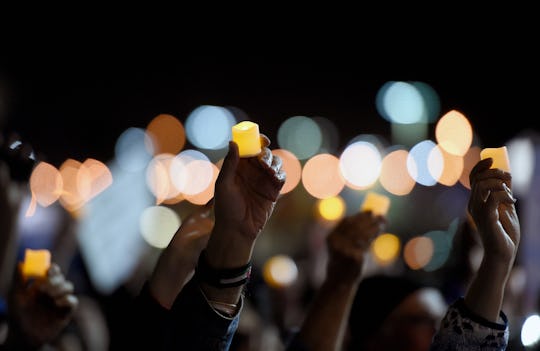 Ethan Miller/Getty Images News/Getty Images
How To Support Robert Godwin Sr.'s Family
Tragedy seems to be everywhere you look, recently: victims of war-torn countries fleeing bombed-out buildings, families torn apart by senseless violence, images of startling events are on every news screen in America, just about every night. And the killing of Robert Godwin Sr. was especially tragic, for a number of reasons. Not only was Godwin an innocent victim, but he was murdered by a man who allegedly recorded the entire incident on Facebook. And even though Godwin's killer later shot himself, ending his own life, his victim's family is still hurting. So, how can you help Robert Godwin Sr.'s family? There are many ways — but you'll need to be vigilant about your methods.
As The Washington Post reported this week, mere hours after Godwin was killed, GoFundMe pages claiming to help out with the family began cropping up. However, after the website set out to verify all such pages, only one was found to be credible. A fundraising campaign started by Wesley Scott Alexander was vetted by GoFundMe and discovered to be communicating with the family; According to GoFundMe spokesperson Bobby Whithorne, the company has "spoken with the GoFundMe campaign organizer, members of the family, and local authorities" and will "guarantee the money will be deposited directly into the family's bank account."
As CNN reported, Godwin "had 10 children and 14 grandchildren," and frequently visited them. Godwin was also an avid fisher, and frequently "collected aluminum cans and often walked with a shopping bag to pick up ones he saw on the ground," as Cleveland.com reported. From these facts, one plausible option for helping show support for both Godwin and his family is to donate to recycling or city cleanup efforts, as Godwin was apparently passionate about such things. It's a simple, not to mention generous, way to show you care — not just about Godwin's family, but the types of communities that he cared about so much.
Over the past week, thousands on Twitter and various social media outlets have also shown support for the family by speaking out and posting their own condolences. If you're unable to pitch in a donation or help with a city clean-up, that small gesture will still count just as much.
Robert Godwin Sr. didn't deserve to die the way he did, and his family doesn't deserve to be going through what they're going through. And although you can't change time, you can help them move forward; Donating, volunteering, or advocating for issues his family may express support for later on are simple ways to show you care.