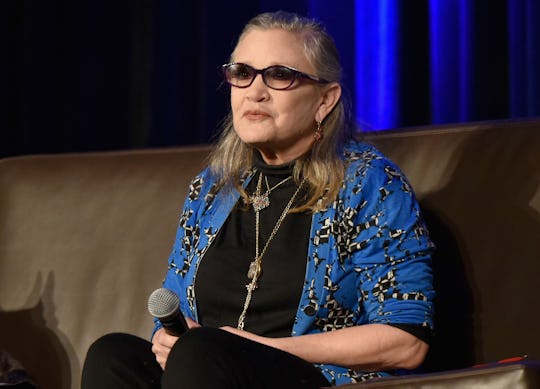 Daniel Boczarski/Getty Images Entertainment/Getty Images
How To Pay Tribute To Carrie Fisher On Facebook
With the news of Carrie Fisher's death at age 60 shocking the world, many fans are wondering how to pay tribute to Carrie Fisher on Facebook. An iconic actress known for portraying everyone's favorite badass feminist, Princess Leia in the Star Wars franchise, Fisher deserves being immortalized on social media.
Because Fisher was every bit as badass as Princess Leia. An advocate for mental health, a form of support for those suffering from addiction, and a key player in as breaking down the stigmas facing those suffering in life, she has been every bit of a hero as her famous character.
As an active social media user, Fisher had been able to keep in touch with her fans through Twitter, where she often used emojis to write out entire updates and share pictures. She hadn't been as active on her own Facebook page, but there are plenty of ways to figure out how to pay tribute to Carrie Fisher on the social media platform. Whether you were a huge fan of Star Wars or simply loved the insight and wisdom Fisher has shared over the years about addiction, rehab, body image, and mental illness, it's time to give her a perfect send-off into a galaxy far, far away. Rest easy, Carrie Fisher, and thank you for all you have done.