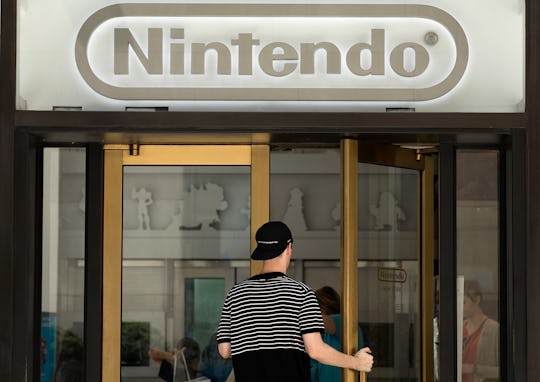 Drew Angerer/Getty Images News/Getty Images
How To Pre Order The Nintendo Switch, The Hottest Gaming System Of 2017
Gaming has come a long way since those ancient Gameboys everyone played The Legend of Zelda on. Gameboy's creator, Nintendo, who also gave us the Gamecube, The Nintendo 64, and more recently the Wii, has a new console that's reminiscent of some of the older models — but with a modern twist. The company released a teaser for its latest gaming system on Thursday morning. If you're wondering how to pre order the Nintendo Switch, be warned: it won't be available in time for the holidays.
Old Nintendo handhelds used cartridges (remember thinking blowing the dust out of them would make them work better?) instead of discs, which were a newer technology and mostly used for CD-ROM games on your desktop computer. Nintendo forayed into using tiny discs for the Gamecube, but its handheld gaming units relied on those cartridges.
The Nintendo Switch looks like it'll be the best of both gaming worlds: it's a hybrid console that can be played at home and on the go without any interruption. You can start playing in your living room on your TV screen, then transfer your game's controller onto a handheld unit, which becomes a portable console, seamlessly picking up your game without losing progress — hence the name Switch.
The Switch itself can also split into two controllers for multi-player action, and is compatible with traditional wireless controllers for playing on the big screen. This new controller scheme is called the Joy-Con, made up of left and right halves that can be disconnected from the portable screen aspect of the console. These two pieces work wirelessly, or, they can be added to a "grip," for a more traditional controller feel. Gamers can also forgo the newer control model entirely and opt for the Nintendo Switch Pro Controller, which is basically a standard, wireless controller model.
#NintendoSwitch was the top trending hashtag on Twitter shortly after the teaser video was released and one question on everyone's mind was, when will they be able to get their hands on the console? At the end of the teaser video, Nintendo gives a release date of March 2017 — meaning it won't be available this holiday season.
But just like any other release of a new video game or console, you can rest assured that Nintendo will keep fans updated on when they can preorder the Switch online and where it will be available to buy. The Nintendo website also lists retailers that carry its products, like Amazon, Best Buy, GameStop, KMart, ToysRUs, Target, and Walmart.
In the meantime, you can get a head start on all the games that make an appearance in the teaser video, including The Legend of Zelda: Breath of the Wild, Skyrim: Special Edition, and Mario Kart 8, as pointed out by the keen eyes of the bloggers at Nintendo Wire.