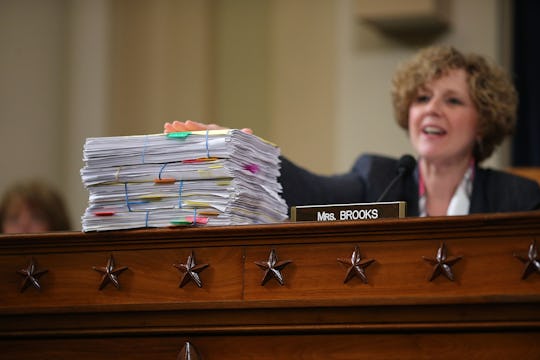 Chip Somodevilla/Getty Images News/Getty Images
How To Read Hillary Clinton's Emails After The FBI's Recommendation Against Charges
Democratic frontrunner Hillary Clinton breathed a sigh of relief on Tuesday when she was cleared of criminal misconduct by the FBI for her mishandling of classified information. Still, the year-long investigation into 30,000 of Clinton's emails offered unprecedented insight into the former Secretary of State's relationship with the president, foreign policy stances, and her personal life. For those looking to read Hillary Clinton's emails, there are plenty of options.
While the FBI concluded that Clinton did not knowingly share classified information, many of the materials reviewed by the Bureau were deemed secret. In fact, 110 emails were classified at the time they were sent, contrary to Clinton's former claims, according to The Washington Post. Clinton streamed the emails through multiple private servers and on multiple devices. Critics argued that these servers could have easily been hacked, compromising national security. The Bureau also revealed that Clinton deleted thousands of emails deemed "personal" that in fact contained government information. Still, the FBI found that Clinton didn't intentionally hide any wrongdoing. Instead, her actions were negligent at worst and "careless" at best.
While the investigation will undoubtably strain Clinton's campaign efforts, the emails offer a treasure trove of information about the candidate. They span dates from 2008 through 2013 and cover everything from her handling of the Benghazi attacks in Libya to Clinton's battle with an unruly fax machine. Here's how to check them out for yourself:
1. For Serious Diggers
Anyone on a mission to find specific emails will appreciate this comprehensive search engine created by the Wall Street Journal. It allows users to select a date range and search by topic, sender and even the contents of the emails.
2. To The Point
If that seems too overwhelming, head to readhillarysemails.com to, well, read Hillary's emails. This straightforward site divides the emails by release date and is a great tool for anyone wanting to browse without a specific topic in mind.
3. Just The Hits
If you're looking for the funniest and most incriminating emails, Politico's 23 must read Clinton emails are a great place to start. This list will catch you up on the most salient exchanges you need to know about in five minutes. You'll have a laugh and might even stumble upon something that sparks a deeper search.
While journalists are still stumbling on questionable or significant documents in the 50,000 pages released to the FBI, these emails need to be examined carefully. Not only do they give readers an inside look into the inbox of the woman who may become America's next president, but they also put into question her campaign's assertions of how she handled classified information.
Happy digging!