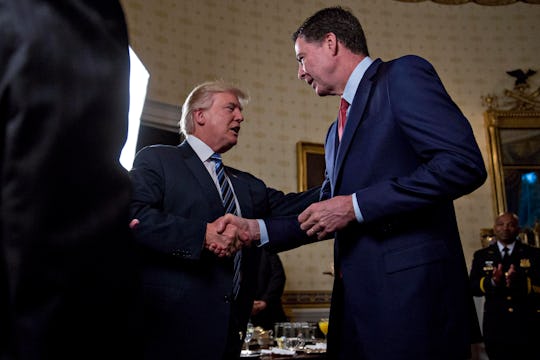 Pool/Getty Images News/Getty Images
Where To Read James Comey's Statement About Trump
If you're prepping to watch Thursday's Senate hearing starring former (now fired) FBI Director James Comey, you'll want to do your homework. First assignment? Figure out how to read James Comey's statement about President Trump, as it's already been released. You can read Comey's words here, as he's detailed the exchanges — "nine, one-on-one" conversations — with the president.
On Jan. 6, Comey met with Trump to brief him on "an IC assessment concerning Russian efforts to interfere in the election." At time time, Comey assured him that Trump was not personally under investigation. After this conversation, Comey relays that he resolved to keep records of his interactions with the president; Comey "began to type it on a laptop in an FBI vehicle outside Trump Tower the moment [he] walked out of the meeting."
On Jan. 27, Trump had a private dinner with Comey. Here, Trump allegedly asked if Comey wanted to remain in his job as FBI Director. Comey responded that he did, but felt the need to remind Trump that he "was not 'reliable' in the way politicians use that word," but reassured Trump that he would always be truthful and bipartisan. Comey then writes:
A few moments later, the President said, "I need loyalty, I expect loyalty." I didn't move, speak, or change my facial expression in any way during the awkward silence that followed. We simply looked at each other in silence.
After this exchange, Trump suggested that he might have Comey investigate the material Comey had briefed him on in their first meeting "to prove it didn't happen." Comey advised against this, as it might suggest that Trump was being personally investigated.
In a Feb. 14 meeting at the Oval Office, Trump insisted, privately, that the two men talk about Mike Flynn, who had resigned the previous day. Trump insisted that Flynn "hadn't done anything wrong in speaking with the Russians, but he had to let him go because he had misled the Vice President."
"He is a good guy and has been through a lot," Trump told Comey. "I hope you can see your way clear to letting this go, to letting Flynn go. He is a good guy. I hope you can let this go," he repeated.
After Comey wrote up the exchange, he told what had happened with FBI leadership, who together decided that it would be useless to share what was said with Attorney General Sessions, as the group expected Sessions to "recuse himself from involvement in Russia-related investigations" (which he did). Meeting with Sessions later on, Comey asked that Session prevent Trump and Comey from communicating directly with one another.
Comey's penultimate, documented interaction with Trump — a phone call — took place on March 30. The president allegedly "described the Russia investigation as 'a cloud' that was impairing his ability to acton behalf of the country," and asked that Comey help "'lift the cloud.'" Trump insisted that it was unclear to the public that Trump himself wasn't under investigation, so the two "need[ed] to get that fact out."
A follow-up call on April 11 reemphasized the need to clear the aforementioned "cloud" and "get out" the message that Trump himself was not under investigation. Comey writes Trump posited that he might work with Acting Deputy Attorney General to deal with this issue. Comey briefed:
He said he would do that and added, "Because I have been very loyal to you, very loyal; we had that thing you know." I did not reply or ask him what he meant by "that thing."
"That was the last time I spoke with President Trump," Comey concludes the document, which reads like a political, mystery thriller more than anything else. The sequel? Tomorrow's hearing. Comey's Senate hearing airs at 10 a.m. Eastern Time, and will also stream on various news sites. Though many have already molded their own predictions based on the documents, further investigation is needed before it's finally decided whether or not Trump obstructed justice.