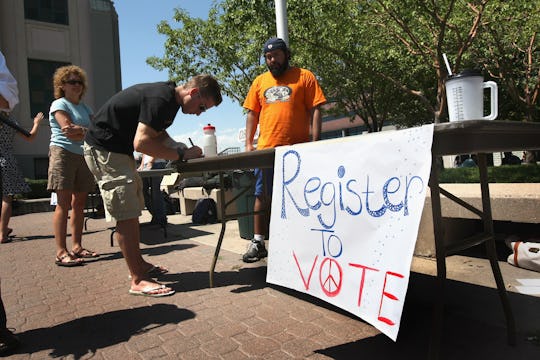 John Moore/Getty Images News/Getty Images
How To Register To Vote In Colorado, Because It Couldn't Be Easier
The United States as a whole got a liiiiittle more intimately acquainted with Tim Kaine and Mike Pence during the first and only vice presidential debate Sunday night. The potential veeps punctuated talk about campaign issues like immigration, Russia, and abortion with lots and lots of interrupting — all for a show most experts agree was unlikely to sway the general election. Still, with two more presidential debates to go, it's crucial that Americans get set to cast their ballots Nov. 8, because one of those candidates' bosses will claim the Oval Office in 2017. It's critical even in states that are strongly projected to go either blue or red — so if you're living there or will be very soon, here's how to register to vote in Colorado.
First and foremost, if you're a U.S. citizen living in Colorado who's at least 18 years old and not a felon, you literally have no excuse for not voting in the Rocky Mountain State. While some states, like Wisconsin, Mississippi, and Indiana have recently passed contentious voter identification laws that could arguably disenfranchise some otherwise eligible voters, Colorado's voting legislation since 2013 has made capitalizing on that right as easy as it could possibly be.
And the very best news, dear Coloradans, is that if you're still not registered, you can do it right now, without even leaving this page, and get ready to face that Hillary Clinton vs. Donald Trump (vs. Gary Johnson vs. Jill Stein) vote.
Those lucky voters who live in Colorado have the option to register to vote either online or by mail by Oct. 31, and the professional procrastinators can even get registered in-person when they roll into their local polling place on Election Day. If you weren't planning on showing up, well, now you are, because your state has enacted its ultimate voter-encouragement trump card. (No pun intended.)
Members of the Colorado electorate can hop on over to the Secretary of State's website to determine whether they are, in fact, registered to vote. If they're not, they can stay on the site to register online using a state driver's license or an ID card from the Department of Revenue.
And because Colorado is one of the 31 states plus Washington, D.C., that permits online voter registration, potential voters there can also take advantage of Romper and Bustle's Rock the Vote widget below, and get all signed up to vote this November without even getting off the couch.
Here's how it works: Romper and its sister site, Bustle, have teamed up with a non-partisan campaign called #OurVoteCounts to get 100,000 women registered to vote this October. The team is so dedicated to making sure the sites' readers help decide who their next president will be that some staffers will be stopping at different locations across the country to help people register as well. And readers can help get the word out, too: Once you've completed your registration, make sure to talk about it on Twitter (using the hashtag #OurVoteCounts) and link to it (rtvote.com/bustle).
Of course, Romper and Bustle understand that some might get weirded out by the word "widget," so it's cool if you decide to go the classic snail mail route, too: Coloradans can either download the Colorado Voter Registration Form from the internet (just click here, and voila!) and mail it to the address indicated, or request a form by getting in touch with their local county clerk or recorder.
Speaking of mail, for the first time, voters will have the option to mail in their ballots this Election Day, according to The Colorado Independent. Starting Oct. 17, registered voters will receive their ballots by mail. Then, they can either send them back completed or drop them off at a designated location. And that, my friends, comes with a major advantage: Once voters turn in their pre-Election Day ballots, both presidential campaigns will know, and they'll stop targeting you, according to The Independent. "We'll be striking voters who have already voted regularly so that we're not sending people to their door again or blowing up their phones," spokeswoman for Hillary Clinton's Colorado campaign, Meredith Thatcher, told the outlet.
Doing your best to tune out the rest of this bizzarro election is tempting. But there are so many simple ways to register this year in Colorado and a number of other states that it's almost silly not to take advantage. Get on that, Coloradans.