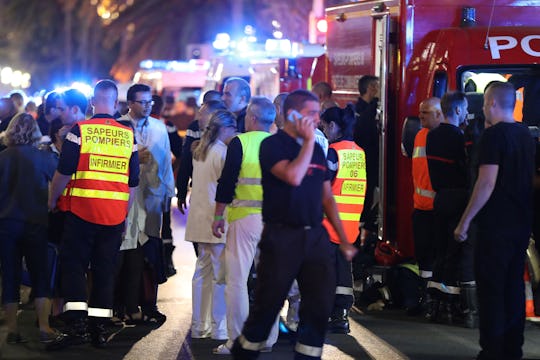 VALERY HACHE/AFP/Getty Images
How To Show Support For The Victims Of The France Crash On Social Media
Just when the world starts to breathe a sigh of relief, tragedy strikes and people are one again left holding their breath in fear. On Thursday evening, the driver of a truck rammed into a crowd at a Bastille Day celebration in Nice, France, leaving at many people dead and injured. People immediately took to social media to share whatever news was available, theories behind the crash, and prayers for the people of France. And while typing their 140 characters of solidarity, many people may be wondering how to show support for the victims of the France crash on social media.
Update: French President Francois Hollande announced Friday that the death toll had risen to 84 and at least 50 people were in critical condition "between life and death," according to ABC News.
According to The Washington Post, a truck struck the crowd as a Bastille Day celebration near the Promenade des Anglais, killing at least 70 people and injuring at least 50. On first glance this may have been seen as an unusual accident, but a tweet from Associated Press journalist Andrew Peng indicated that the driver "accelerated as he hit the bodies" and fired shots into the crowd, leading many to believe this was a planned attack. The Washington Post noted that the local authorities are treating the incident as a terrorist attack, as are other world leaders. In President Obama's statement about the France crash, he referred to the event as, "a horrific terrorist attack."
In times of tragedy, the world tends to come together via various social platforms to show their support for the struggling country. But, coming up with thing to say or the right showing of support isn't always easy. If you're looking to show you stand with France, here are a few ways to show your support for the victims and the people of France.