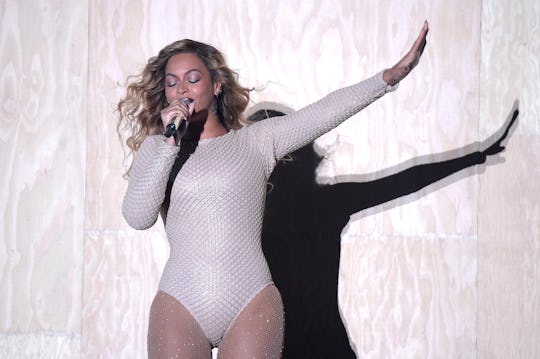 Theo Wargo/Getty Images Entertainment/Getty Images
How To Stream Beyonce's 'Lemonade' When It Premieres On April 23
We all know that if Beyoncé has been quiet for some time we can probably assume something epic is on its way. I'm sure you remember when she unleashed "Formation". Well, it looks like we won't have to wait too much longer for another jaw-dropping release — April 23 at 9 p.m. ET on HBO the world will find out what Beyoncé's Lemonade is. She released a teaser for the "world premiere event" on her Instagram on Saturday. The short clip only shows her whispering the words "what am I gonna do, love, what am I gonna do?" Your mind is freaking out right now and you might be thinking the same thing. Make a plan for next Saturday because here's how to stream Beyoncé's Lemonade.
Simply answered: You're going to need an HBO subscription. Details are super vague, even what the teaser is for is really anyone's guess, but it will likely be available on HBO Go. So, you have one week to butter up your best friend's boyfriend's mom for their HBO Go password, if you don't already have a subscription.
If you've already mooched their Hulu or Netflix passwords off them and can't get access to HBO, you can always sign up for a free trial of HBO Go. You'll need a credit card and Internet, of course. If not only for Lemonade, you'll have unlimited access to other HBO exclusives like Girls, The Sopranos, and The Wire. And with that, your weekends are completely planned for the next month.
You might be wondering if it's going to be worth all the trouble of organizing your own Bey Hive viewing party. Probably. We all know Beyoncé knows how to simultaneously slay and stun her crowds after lots of anticipation. It's her style.
Alright, we've all gotten on board. So, with all the hype, what exactly is Lemonade going to be? When Bey unleashed "Formation" on us at the Super Bowl halftime show with Coldplay, no one was expecting a brand new song and a surprise music video. So, just maybe, before she heads out for her world tour, people are hoping for her to announce an official release date and track list for her new album. Maybe? Fingers-crossed?
Get your supplies in order: You'll absolutely need an HBO Go password or subscription, probably a couple spiked lemonades, and a Bey-loving buddy to experience whatever Lemonade ends up being, because she'll be sure to slay. As she usually does.