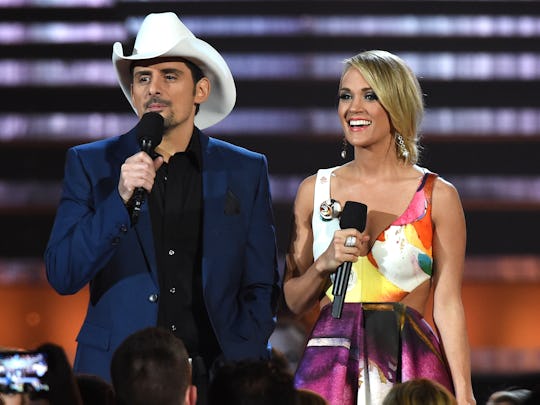 Rick Diamond/Getty Images Entertainment/Getty Images
How To Stream The 2016 CMA Awards, So You Don't Miss A Moment Of The Excitement
This year is the 50th anniversary of the Country Music Association Awards and there's no doubt the ceremony will be even bigger and better than it's previous spectacular shows. Popularly known as "Country Music's Biggest Night," every country music fan will be watching, but for those of us who don't have a TV it may be a bit more difficult to watch the show. Thankfully, there are a few ways to stream the 2016 CMA Awards, so you don't miss a moment of the action.
The CMA Awards will be held on Wednesday, Nov. 2 at 8 p.m. (ET) on ABC and it will once again be hosted by country music stars Carrie Underwood and Brad Paisley. As always, it will be a star-studded night filled with some of the world's most talented singers in the business, including performances by Miranda Lambert, Jennifer Nettles, Little Big Town, Thomas Rhett, Tim McGraw, Pentatonix, Reba, Kieth Urban, Luke Bryan, and Florida Georgia Line, just to name a few. The list of presenters are just as star-studded, including not only country's best and brightest, but also the USA Olympics gymnastics team, popularly known as The Final Five, and actress Jennifer Garner, amongst many others.
So if you don't have a TV and are worried about missing out on what's sure to be an amazing show, here's how you can stream the big event.
Stream The Red Carpet
Although watching the red carpet isn't quite the same as watching the actual show itself, it's still pretty darn close. Thankfully, AT&T offers an exclusive online stream of the carpet beginning at 6:30 p.m. ET. You don't even have to log in or anything. Just click the link and watch. It's that simple. Alternatively you can also watch a live stream of the red carpet on Taste of Country, which will be hosted by Taste of Country Nights host Sam Alex and singer Tara Thompson.
ABC Has It's Own Live Stream
If you have a cable subscription (or know someone who does) you can watch ABC's live stream service online. All you have to do is log in with a cable provider and you're all set. Unfortunately, ABC live stream isn't available in every city, but it is available in most so give it a try.
When In Doubt, Tweet It Out
OK, so this isn't technically streaming the award show, but following the events on Twitter is really the next best thing and still make you feel like you're part of the action. Plus, you can always rely on others to post clips of the night's performances, allowing you to still catch the highlights everyone will be talking about the next morning.
But however you choose to watch, make sure to tune into to the CMA Awards on Wednesday, Nov. 2 at 8 p.m. ET. This is one night of music you don't want to miss.