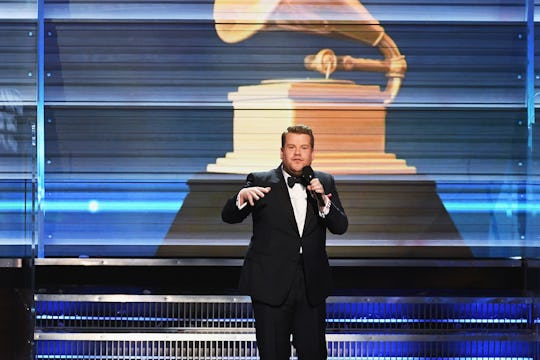 Kevin Winter/Getty Images Entertainment/Getty Images
Here's How To Stream The 2018 Grammy Awards
The Grammys is always a can't miss show and this year won't be any different. But if you don't have cable anymore and still want to make sure you get to see the most talked about performances so you're not left out at work the next day, you're going to need to know how to stream the 2018 Grammy Awards on your computer or through an app. Luckily, it's not too difficult.
The Grammys are on CBS, which is one network that does cater to cord cutters — for a price. You can sign up for CBS All Access which is $5.99 per month and stream the show on your desktop or through their app on Apple TV, iPad, Roku, Chromecast, FireTV, and Xbox or PS4. They offer a week-long free trial, so if you time it right, you might be able to get away without being charged for it. (Unless, of course, you get addicted to the other sitcoms and classic TV shows offered through the service, which is totally understandable.)
You can also get the CBS channel through Hulu Live, which is $39.99 per month or YouTube TV and DirectTV Now, which are both $35/month. You can also get a week trial with those, too, but if you want to stream the Super Bowl and the Oscars this year as well, it might be worth thinking about getting a full plan, since it will be the only way to watch those on network TV (on NBC and ABC, respectively).
If all you care about is seeing what Beyoncé wears or if Cardi B shows up, red carpet enthusiasts will have an easier time streaming for free. The red carpet will be on E! starting at 5:30 p.m. ET, which usually requires a cable authentication, but this year, the Grammys and CBS have your back. The full red carpet show will be streamed on Grammy.com and on both the Recording Academy's and CBS' Facebook page using Facebook Live, according to Billboard, throughout the afternoon.
The red carpet kicks off Sunday Jan. 28 at 6:30 p.m. ET on Grammy.com, but if you want to get the pre-pre-show, you can start watching on the Recording Academy's Facebook page starting at 3:30 p.m. ET. You can switch over to CBS for the actual awards ceremony at 7:30 p.m. E.T. It's going to be hosted yet again by late night host James Corden, which means nothing will be too outrageous. However, the lineup of performers and presenters is pretty killer.
Lady Gaga is slated to perform solo, as are Pink and Kesha, along with nominees Kendrick Lamar and SZA, whose up for Best New Artist. Some of the biggest names are performing together. Rihanna, DJ Khaled, and Bryson Tiller will likely perform their collaboration "Wild Thoughts," and Miley Cyrus and Elton John are reportedly hitting the stage together.
Emmylou Harris and Chris Stapleton are signed on to perform, as are Cardi B. and Bruno Mars, whose "Finesse" performance is likely going to be amazing. Luis Fonsi and Daddy Yankee are also on the roster, so you're going to have to hear "Despacito" just one more time this year (at least).
According to Fox News, Grammy nominees Alessia Cara, Khalid, and Logic are also performing their suicide prevention song, along with suicide survivors and those who have lost loved ones to suicide, which is bound to be a really powerful moment. Another special performance by Broadway stars Patty Lupone and Ben Platt will also do a tribute to Leonard Bernstein and Andrew Lloyd Webber in honor of the show's return to New York City (it's being held at Madison Square Garden) after 14 years in Los Angeles.
Like I said, the Grammys, whether you know all the nominees or not, is always a huge event that you sort of can't miss, so make sure your internet is working and you have your CBS or Hulu Live login ready to go to stream Sunday night.
Check out Romper's new video series, Romper's Doula Diaries:
Watch full episodes of Romper's Doula Diaries on Facebook Watch.