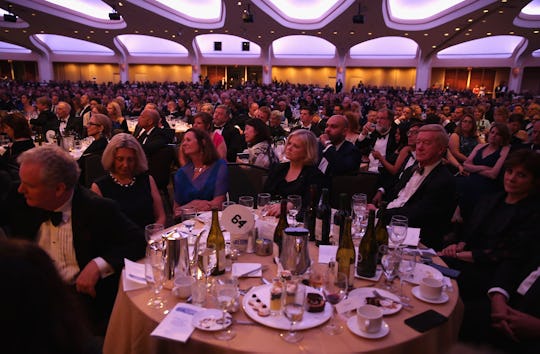 Tasos Katopodis/Getty Images Entertainment/Getty Images
Don't Have A TV? Here's How To Stream The 2018 White House Correspondents' Dinner
The White House Correspondents' Association's annual dinner is going to be held this Saturday, April 28. Though there are a slew of questions floating around — Who is the host? Will President Donald Trump make an appearance this year? — one of the most important is this: how to stream the 2018 White House Correspondents' dinner. For those who are interested, the event will be viewable on multiple platforms.
For those who don't already know, the WHCA is an organization of journalists who cover news pertaining to the White House and the current presidential administration. The organization has been operating for over 100 years, after being founded in 1914 subsequent to the rumor that Woodrow Wilson would be able to pick and choose which journalists were allowed to cover a U.S. Congressional committee event.
Though the WHCA's dinner — by far the most famous event the organization holds — is typically attended by the president, Trump did not attend last year. On April 6, CNBC reported that Trump will be skipping the event this year as well. Though he has not made a statement explaining why he chooses not to attend, it could very well be related to his terse relationship with the media, with whom he has villainized throughout his presidency.
And if you don't have a TV at home, don't fret — you can stream the dinner on C-Span as well as on the YouTube live stream, which is embedded below.
CNN reported that Trump will be rallying in Michigan while the dinner is happening. Michael Glassner, his campaign chief operating officer, reportedly said in a statement:
While the fake news media will be celebrating themselves with the denizens of Washington society in the swamp that evening, President Trump will be in a completely different Washington, celebrating our national economic revival with patriotic Americans.
However, Margaret Talev, the president of the WHCA, offered a more diplomatic explanation, saying that Trump "actively encourage(s) members of the executive branch to attend and join us as we celebrate the First Amendment." It should be noted that with the exception of President Ronald Reagan following an assassination attempt, every president since Calvin Coolidge has attended, and in the last few decades, it's become mandatory for the commander-in-chief to attend.
As for who is attending, this year, Michelle Wolf will be hosting the event. And as a comedian and actress who has written for late night TV shows like The Daily Show With Trevor Noah — and has opened for other high-profile comedians — she's perfect for the gig. She also has a show on Netflix, The Break. Margaret Talev said the following about her when she announced the association's choice of host, Variety reported:
Our dinner honors the First Amendment and strong, independent journalism. Her embrace of these values and her truth-to-power style make her a great friend to the WHCA. Her Pennsylvania roots, stints on Wall Street and in science and self-made, feminist edge make her the right voice now.
It's tradition for the host to "roast" the sitting president during their speech, as Hasan Minhaj did to Trump in 2017. (The New York Times reported that though the tradition has been upheld for years, the WHCA is a notoriously tough crowd, and that they sat in "stony silence" when Stephen Colbert delivered his monologue in 2006.)
As Vox reported: the importance of the WHCA cannot be understated. White House correspondents are integral to reporting on the president and his administration, as well as being an intermediary between what's happening behind closed doors and what's public knowledge. Though the dinner is more or less just a celebration of the year's work, the organization that it serves to honor needs to be recognized for their crucial role in the country's functioning democracy.
Check out Romper's new video series, Bearing The Motherload, where disagreeing parents from different sides of an issue sit down with a mediator and talk about how to support (and not judge) each other's parenting perspectives. New episodes air Mondays on Facebook.