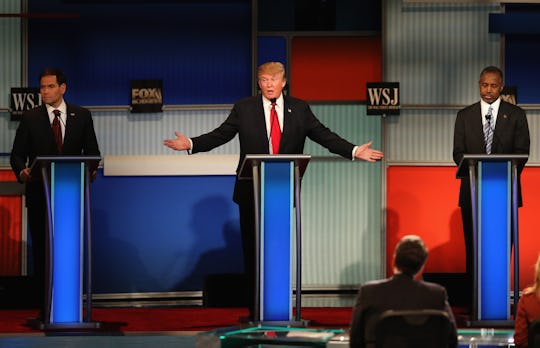 How To Stream The GOP Debate On CNN, Because Who Knows What The Donald Will Say Next
Partisan politics aside, it's, like, really, really important to hear what candidates of both parties have to say for themselves. Between media spins and candidates' social media teams — I mean campaign managers — take this opportunity to hear what these guys have to say as they say it. But how do you live stream the GOP debate? Because CNN, the network that is hosting the Dec. 15 event, is a major cable news outlet, it makes it pretty easy for you to access on your computer or mobile device, if you don't own a TV or pay for cable.
This GOP Debate will be a face off between the more serious candidates. (No, frontrunner and business mogul Donald Trump is not a serious candidate.) In the aftermath of the Paris attacks and the shooting in San Bernardino, California, Florida Sen. Marco Rubio and Texas Sen. Ted Cruz have gone head to head over national security, according to The Hill. Cruz and Rubio are following Trump closely, and the Republican National Committee would me more comfortable with either of the establishment candidates winning the GOP nomination for the 2016 election. Though both have supported calls to stop or limit Syrian refugees from entering the U.S., they differ on issues such as the National Security Agency and its surveillance powers, according to the Hill.
Though these are the serious issues at the center of the 2016 Republican race, the debate is sure to be full of offensive comments from Trump and retired neurosurgeon Ben Carson, who compared Syrian refugees to rabid dogs in November and defended calls for increased scrutiny of Muslims in the U.S., according to CBS News. Here's how you can stream the GOP debate and watch all of this malarky unfold.
CNN Recommends You Use Chrome For Optimal Streaming Experience
If you haven't downloaded Chrome, it's super simple. Just give a click here to download chrome and you'll have the browser in no time.
No Download Required
CNN live stream doesn't require a download, so no need to worry about clogging up your laptop or device. CNN will be live streaming the debate at this link, but if you want faster streaming, then you can also try CNNgo for free.
Sign Up For A Free Account
For faster streaming (sometimes the stream can be temperamental), sign up for a free CNNgo accound. After you register, all you have to do is log in.
Select A Stream Channel
CNN offers five Stream channels. I'm no tech wiz, but it looks like Stream 1 is no different from Stream 5. So, pick one, NBD which stream team you choose, and start streamin' in HD.
Now you're ready to watch the CNN GOP debate, which broadcasts live at 8:30 p.m. ET. I recommend pairing it with wine. Also, Marco Rubio isn't terrible to look at. Just sayin.'
Images: Scott Olsen/Getty Images; 951929, Rick/Flickr; Giphy (4)