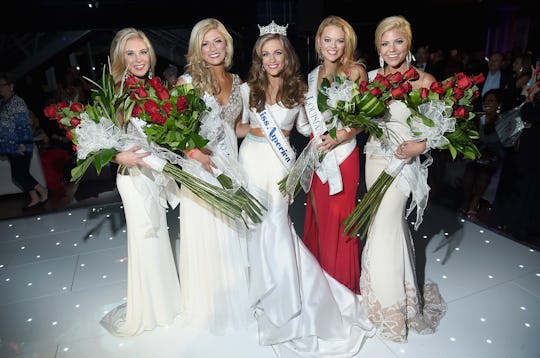 Michael Loccisano/Getty Images Entertainment/Getty Images
How To Stream The Miss America 2018 Competition
Now that all seven judges have officially been brought on board, things are getting serious for Sunday's Miss America 2018 competition. But as with all things that air on TV before anywhere else, viewers might find themselves asking how to stream the Miss America 2018 competition since finding yourself in front of a televion can sometimes be tricky. Since the live special airs on ABC on Sept. 10 at 9 p.m. ET, you can also live stream it from ABC.com as long as you're located in an area where the stream is available or can add your cable provider information if prompted.
Parts of last year's Miss America 2017 competition, like a portion of the question and answer segment, were streamed live on YouTube, so there is the chance that could happen again for this year as well, but there's no set place for that as of right now. Other than that, your best bet at catching the show live is to watch it on TV when it airs on Sunday. There is the possibility that the Miss America 2018 competition could show up on Hulu the following day since the streaming service has covered the pageant in the past, but as of right now, there's nothing set to confirm that.
And since there could really be no one else better suited, for his ninth year in a row, Bachelor host Chris Harrison will be returning to host the Miss America 2018 competition. "It's such an iconic event," he told E! News. "That's why I love hosting it. I grew up watching it and watching the host, because I've always been into that… It's an honor to be on that stage and it's an honor to, every year, say, 'Miss America is'."
The judges are also all in place for Sunday's live show. On Sept. 5, the seventh and final member of the judges panel for the Miss America 2018 competition was chosen, making Olympic gold medalist figure skater Tara Lipinski the most recent judge chosen for the competition this year. In addition to Lipinski, the judges panel includes model/actress Molly Sims, TV host Maria Menounos, 2014's Miss America winner Nina Davulur, singers Jordin Sparks and Thomas Rhett, and People editor-in-chief Jess Cagle.
Once again, the competition itself will be hosted live on the Atlantic City Boardwalk in the Boardwalk Hall, but since the Miss America Organization will be in the final year of its contract with the Casino Reinvestment Development Authority, this might be the competition's last year to call the Boardwalk Hall home, especially since it costs Casino Reinvestment Development Authority $4 million each year to be able to host the event. "Something is going to have to change," Atlantic City Mayor Don Guardian told The Press of Atlantic City. "Maybe they can meet part of the way. That is a lot of money for 4,000 to 5,000 [people] who are paying on pageant night."
So if this does end up being the last year for the pageant to be hosted on the Atlantic City Boardwalk, streaming the Miss America 2018 competition is that much more important if you can't watch it on TV or be one of the thousands of attendees there in person.
Check out Romper's new video series, Romper's Doula Diaries: