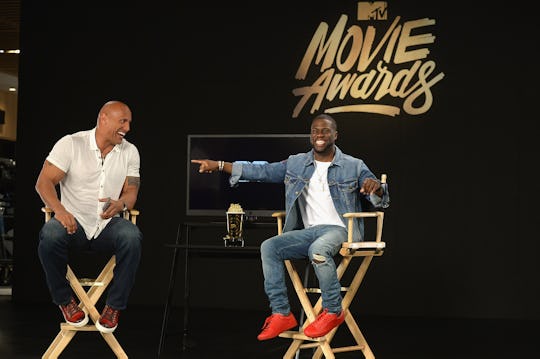 Gustavo Caballero/Getty Images Entertainment/Getty Images
How To Stream The MTV Movie Awards & Catch All Your Favorite Celebs
The MTV Movie Awards are right around the corner and if you're one of the lucky ones who gets to view it live, well then I'll eternally envy you and hope you come back with an epic celeb-filled selfie. Although, if you're like most of us cable-less viewers who plan to be snuggled up in bed in front of our laptops, don't worry —I'm here to tell you how to stream the MTV Movie Awards, so that you can watch hosts Dwayne "The Rock" Johnson and Kevin Hart banter with our favorite celebs and have their own chance at winning a coveted Golden Popcorn. You've got a few more days to figure things out before it airs on April 10 at 8 p.m. ET/PT, so take note.
MTV knows its audience and knows that most millennials won't be sitting in front of a television, so they've planned plenty of options for us too cool for TVs. If you have a decent Internet connection and a laptop, tablet, or even just your mobile phone, you'll be golden like MTV popcorn. Thankfully, watching your favorite celebs in their glitz and glamour from the comfort of your cable-less home has never been simpler.
Easily enough, you can watch this year's movie awards right on MTV's AllAccess website starting at 3 p.m. ET on Sunday, giving you just enough time to catch all the pre-show promos. You don't have to enter your cable information to stream, you can just watch it for free. Seems simple enough, right? Whatever you do you definitely won't want to miss this year's broadcast: It's the 25th anniversary, so you can be sure that MTV will be pulling out all the stops to make it memorable.
Unlike most awards shows, which air from a singular theater, this year MTV will pre-tape segments of the show live-style across the Warner Bros. backlot, taking place outdoors in multiple locations. "We want to do a big, brave thing to celebrate movies," the show's exec producer Casey Patterson said to Variety of the different filming style. "We love Kevin and Dwayne for doing big, risky, bold things. Most awards shows play it safe. They're the right guys to take swings."
MTV wants us to know they're risk-takers and adaptable, making the livestream even more accessible for the technologically savvy bunch. MTV will also be utilizing social media to broadcast the show, specifically Twitter's live-streaming Periscope app, which you'll have to download to your device. In addition to that, Facebook Live and YouTube will also be available for viewing. That's a lot of options to watch Will Smith get jiggy wit it as he's being handed the coveted Generation Award for his impressive Big Willie Style career.
All these streaming options basically make viewing the awards show just one huge party with everyone live tweeting and posting their reactions and thoughts. It's wonderful how accessible the show has become.