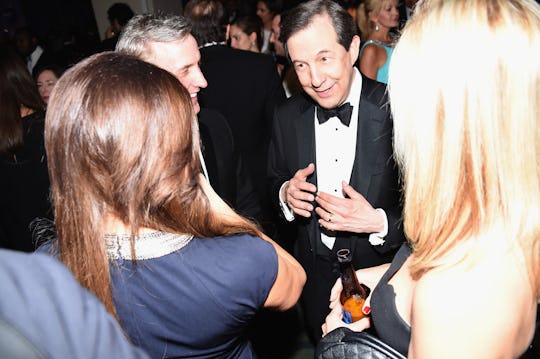 Nicholas Hunt/Getty Images Entertainment/Getty Images
How To Stream The White House Correspondents' Dinner
Former President Barack Obama was always known for his killer sense of humor. In 2016, the last year he would host the White House Correspondents' Dinner, there seemed to be a certain air of nostalgia. The end of an era, as it were. Like we could all sense not just a changing of the guards coming our way, but a changing of our world. Boy, were we on the nose. If you are looking to stream the White House Correspondents' Dinner this year, get ready for a few fairly monumental differences. For instance, there won't be a president in attendance. Which feels like it deserves a mention.
President Donald Trump made it clear that he would not be attending the White House Correspondents' Dinner via Twitter. This will be the first time in 36 years a sitting president has not attended the dinner aimed at recognizing not only excellence in those specific journalists who cover the ever-evolving (and increasingly erratic) news coming out of the White House, but also to hand out scholarships for up-and-coming journalists.
The awards ceremony has been held since 1921, and is generally a star-studded affair. A chance to see the president get a little informal. To offer a little well-earned respect to the principled free press. Apparently, this is not Trump's forte. He announced that he plans to hold a rally in Pennsylvania on April 29, the same night as the WHCD. Also, coincidentally, that's his magical 100th day as president.
Despite the fact that neither Trump nor any of his staff plan to attend the White House Correspondents' Dinner (for the first time since the dinner's inception in 1921), it will naturally go on. Senior correspondent for Comedy Central's The Daily Show With Trevor Noah, Hasan Minhaj, is scheduled as the entertainer for the event, which C-Span will be streaming live starting at 9:30 pm EST.
If the 2017 White House Correspondents' Dinner follows true to form from previous years, Minhaj could be tasked with the somewhat daunting/thrilling prospect of roasting Trump in absentia. To a considerably less packed house than before, as major news outlets like The New Yorker, Vanity Fair, and BuzzFeed have decided not to attend. And yet, he has a real opportunity here, not just to entertain but to speak out as a first generation Indian-American and Muslim about how Trump's America looks to him.
It should be well worth watching. And well worth honoring the journalists who continue to bring us news from an increasingly hostile White House. Their jobs are more important now than ever.