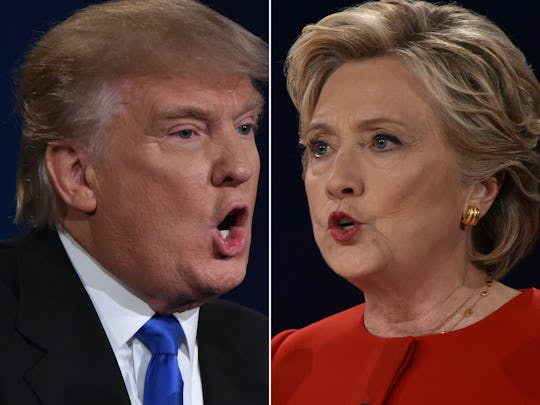 PAUL J. RICHARDS/AFP/Getty Images
How To Submit A Question For The Second Presidential Debate
The second presidential debate will take place on Oct. 9, and is likely to be even more exciting than the first. That's because, unlike the first debate, which featured 10 questions posed solely by a moderator to candidates Hillary Clinton and Donald Trump, half of the questions in this second debate will come from citizen participants. For those interested, here is how to submit a question for the second presidential debate.
Questions can be submitted to PresidentialOpenQuestions.com, which was created by the Open Debate Coalition. You must first register with Presidential Open Questions (don't worry-it's free), create a user name and password, as well as provide your first and last name and zip code. Once you've created your account, click on the "Submit a Question" button, and from there you will be asked to select a category for your question. There are 10 categories to choose from, which include "Economy & Jobs," "Foreign Policy & Military" and "Health." Questions can't be longer than 80 characters.
"The whole genesis of the open debate format came from a group of bloggers and the realization that the media has a monopoly over the debate process," Lilia Tamm Dixon, program director for the Open Debate Coalition, said in an interview with The Daily Signal.
If you're not sure what question to ask, there are two important rules to remember: the questions cannot name or allude to one specific candidate, and they should be able to be directed to either candidate. Here is a list of other guidelines provided by the open debate project's website.
No hate speech, graphic content, threatening or abusive language, or profanity.
No commercial promotion, spam, or other unrelated content.
No trolling (questions offered without intellectual honesty or in effort to discredit the site).
All submissions must be worded as a question.
Questions must not name or allude to a candidates and must be able to be posed to either candidate. (This is to curtail gotcha questions, avoid statements that are directed at candidates instead of posing questions, and to keep the focus on issues of long-term import to voters.)
Questions must be germane to the goal of understanding more about the candidates' platforms, positions, policies, background, and values.
The project's participation page also states that "questions that provide personal stories or connection to the question will be given preference." You'll also be able to see and vote for questions on the Presidential Open Questions website. Nearly 1.8 million votes have been cast so far, Business Insider reports. Many people are turning to social media to encourage others to vote for their favorite questions.
The Commission on Presidential Debates, which sponsors and produces the presidential and vice-presidential debates, believes that giving the public the ability to ask the candidates questions is important for creating a debate that tackles the issues they are concerned about.
"This year's presidential debate moderators will have a rich pool of voter-submitted questions they can draw on that carry greater weight because they are backed by votes from the American people," Mike McCurry, co-chairman of the Commission on Presidential Debates, said in a statement.
The debate's moderators, Anderson Cooper of CNN and Martha Raddatz of ABC, will receive the 30 most popular questions. However, not all 30 questions may be asked during the debate.