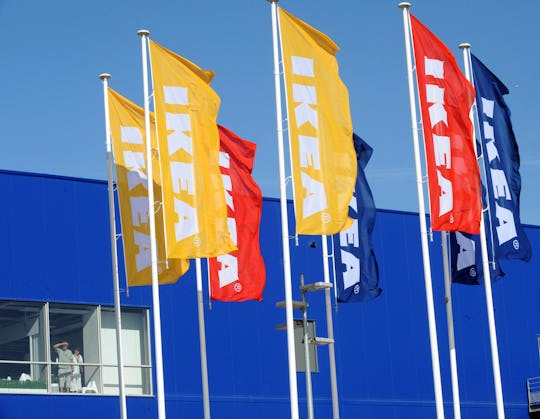 IROZ GAIZKA/AFP/Getty Images
How To Tell If Your IKEA Dresser Has Been Recalled, Because It Can Be Dangerous For Kids
IKEA, everybody's favorite place to argue with their spouse, announced a massive dresser recall on Tuesday due to a tip-over hazard. The most well-known item being recalled is the Malm series, but the list of IKEA dressers that were recalled actually includes more than 100 different models. According to ABC, the recall covers 29 million dressers. The Consumer Product Safety Commission blames IKEA dressers and chests for 36 injuries and six deaths of children under age 4, dating back to 1989.
In a statement on its website, IKEA cited the CPSC statistic that "[e]very two weeks, a child dies in the U.S. from furniture, appliances, or TVs tipping over," and urges consumers to use the hardware provided with its products to anchor furniture to the wall. Customers who neglected to utilize the original hardware can obtain a replacement anchor kit from IKEA free of charge. IKEA will also install anchor kits free of charge for those who are unable or unwilling to do it themselves. Those who would rather return the dressers can receive a full refund for products manufactured in 2002 or later, or a partial refund for older merchandise. The full list of recalled dressers is available on IKEA's website.
IKEA is urging consumers to anchor all children's chests and dressers taller than 23.5 inches, and all adult chests and dressers taller than 29.5 inches. The issue with IKEA dressers in particular is that most of them are made of lightweight particleboard or pressed wood. Opening one or more drawers full of heavy objects, or pulling on the front of the dresser, as a child would when attempting to climb up on it, could easily throw the furniture off balance, causing it to topple forward if it's not secured to the wall.
But the problem isn't exclusive to IKEA furniture; according to the CPSC, a child in the United States is injured by a falling TV or tipped-over furniture every 24 minutes. The CPSC noted that a falling TV can exert thousands of pounds of force, "10 times more powerful than being hit by a NFL lineman," and that most of the incidents result in head injuries. In addition to securing top- or front-heavy furniture to the wall, consumers are cautioned to only place TVs on furniture that's designed to support them, and anchor any TV that's not wall-mounted. Parents should also remove tempting items like toys and remote controls from the tops of furniture to reduce the likelihood that children will climb.