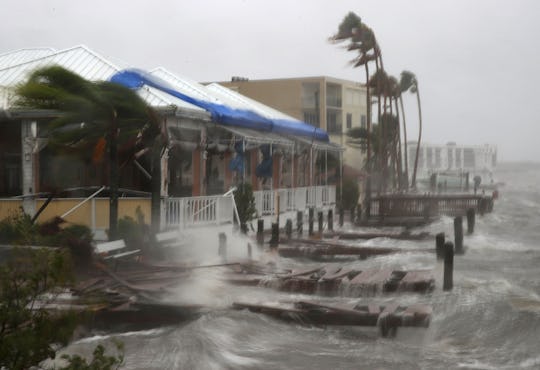 Mark Wilson/Getty Images News/Getty Images
How To Use The Facebook Safety Check-In For Hurricane Matthew
If you're living in Florida or affected islands in the Caribbean, Hurricane Matthew and its 100-mile-per-hour winds are a serious threat at the moment. As the storm heads north, residents in high-risk areas along the coast have been asked to evacuate, and friends and family watching from abroad are understandably concerned. If you want to let loved ones know you're safe, here's how to use Facebook's Safety Check for Hurricane Matthew.
The social media site first activated Safety Check for Hurricane Matthew on the evening of Oct. 4, as the hurricane rolled through the Caribbean, according to CTV. A statement on Facebook's Disaster Response page read: "Our hearts go out to the people affected by this tragic event. Safety Check is a simple and easy way to say you're safe and check on others after a major disaster or crisis. We hope the people in the area find the tool a helpful way to let their friends and family know they are okay."
If you live in (or are visiting) one of the affected areas, you can let people know you're okay using Safety Check in several ways. First, if Facebook knows you're in a danger zone (because you either live there, have allowed Facebook to track your location, or your IP address gives your city location away), the site will send you a push notification asking if you're safe. All you have to do is mark "I'm safe," and Facebook will send all of your Facebook friends a notification to let them know that you're okay.
If for some reason Facebook hasn't realized that you're in an affected area — when really, you're in the eye of the storm — you can also go directly to Facebook's Safety Check page for Hurricane Matthew, click a button letting them know you're in the affected area, and then mark yourself as safe.
If you want to check in on certain friends or family in the area, you can also visit that same Safety Check page, search for a Facebook friend, and click the button that says "Ask If Safe" next to their name. This is also where you can mark friends in the affected area as safe if you've either heard the good news from them or are with them.
Hurricane Matthew has already had a devastating effect on parts of the Caribbean, and there's definite cause for concern as the storm rolls through the United States. Keep yourself safe and informed, heed all local authorities' evacuation alerts, and then keep your Facebook family and friends in the loop once you're in a secure location.