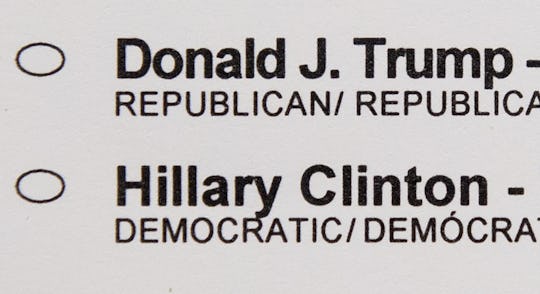 SAUL LOEB/AFP/Getty Images
How To Watch Presidential Election Night Results, Because They'll Be Everywhere
It's the night we've all been dreading/waiting for: election night 2016. This has been one of the most fractious, contentious, and (let's face it) often obnoxious elections in modern history, and some of us are dying for it to be over. Others, obviously, are less excited and more terrified to see what happens when the next president of the United States is finally announced on Nov. 8. Either way, there's only one show in town on Nov. 8, and we are all going to be watching. So where will you be watching election night results this year? Will you be on your own in the dark, bags packed and ready to move up here to Canada with me if the election doesn't go your way (it's really nice, I promise)? Or will you be commiserating with friends at an election party, copious amounts of libations flowing to help either celebrate or ease the pain, depending?
The race between Republican nominee Donald Trump and Democratic nominee Hillary Clinton is about to finally end, and polls have been suggesting an incredibly tight race between the two of them (with Libertarian nominee Gary Johnson and Green Party nominee Jill Stein woefully behind, more is the pity). While election night is generally pretty fraught with theatrics as the country waits to find out who will be the next Commander in Chief, this year should be spectacularly dramatic. With Trump hinting heavily that he might not accept the results of the 2016 election (only if he loses; if he wins he's all good), and the FBI reviewing a top Clinton aide's emails, it's like Oscar night times a billion.
To that end, AMC Theaters announced it will be hosting election night events at 50 theaters in 25 cities across the country, because the election is Just. That. Dramatic. AMC Theaters partnered up with CNN to offer its reward program Stub Club members access to the free event. Seats will be designated blue and red for Democratic and Republican, and cross your fingers that fights don't break out, guys.
For those of us who aren't Stub Club members, there's always the live stream option. YouTube has been having a field day with its live stream coverage of the debates, and for election night, six channels will be live streaming results as well:
NBC News
PBS News
MTV News
Bloomberg News
Telemundo
The Young Turks
All six channels will offer poll results as well as political analysis of the 2016 election, with each one appealing to a different demographic. For those old-schoolers watching on cable, CNN, MSNBC, NBC, Fox News, and ABC will be airing the election. Essentially, if you have access to any type of screen, you'll be able to watch the election results.
On the flip side of that coin... if you're not into the election, good luck finding anything else to do.