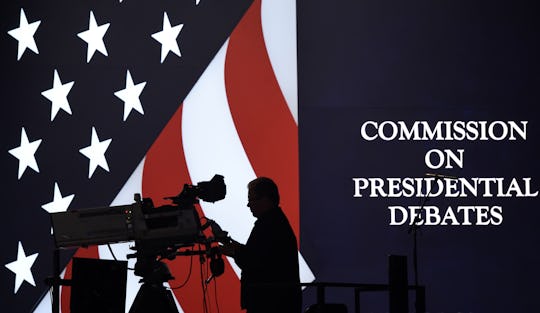 TIMOTHY A. CLARY/AFP/Getty Images
How To Watch The First Presidential Debate Using Twitter
The day has come. The highly-anticipated kick off of the first of three general election debates will air Monday night. Many people are looking forward to the face-off between Democratic Party presidential nominee Hillary Clinton and Republican Party nominee, Donald Trump. So, in preparation for the big presidential election event, many people are likely wondering how to watch the debate online. Thankfully, there are more than a few options for online streaming. For starters, here's how how to watch the first presidential debate using Twitter, since the social media site will have you covered on several fronts.
Monday night's debate, held at Hofstra University in Hempstead, New York, will air on all major stations at 9 p.m. EST, including stations like CBS, NBC, Fox, CNN, and MSNBC. The 90-minute debate will be moderated by NBC's Nightly News anchor, Lester Holt.
Over on social media, the buzz will be big as well: Twitter has long served as a popular outlet for engaging conversations on big televised events. Live-tweeting has gained sweeping popularity over the years, making televised events like the Oscars, BET Awards, and MTV's Video Music Awards that much more interesting. Election debates have shown to attract similar Twitter activity in the past, and I'm sure Monday night's debate will be no different. In fact, Twitter users can watch the debate live on Twitter by going to Twitter's "Moments" tab or visiting debates.twitter.com. Perhaps for some people, this function will make live-tweeting a lot more accessible.
According to Variety, Twitter will stream Bloomberg Television's live broadcast as part of an exclusive agreement. Additionally, Twitter will stream special Bloomberg Politics programming 30 minutes before and 30 minutes after the debate, Variety reported.
The debate is hosted by the nonpartisan nonprofit, Commission on Presidential Debates (CPD). Janet Brown, executive director of the CPD, indicated in an interview with CNN that the role of fact-checking should rely on the nominees, not the moderator. The CPD's decision to limit fact-checking has prompted mixed responses. Clinton's campaign manager, Robby Mook, expressed concerns that Trump may "throw misinformation out there, and that Hillary will have to spend all of her time trying to correct the record rather than talking about the things she wants to accomplish," Mook said in an interview with CBS.
Fortunately for Clinton's camp Bloomberg TV will provide on-screen fact checks of statements by both candidates, Politico reported. That means Clinton (and Trump) can worry less about who's checking their statements and more on, you know. Fighting.
Twitter isn't the only social media site providing a live stream of the presidential debate. Facebook and YouTube will provide live-streaming services as well. So pick your favorite, and make sure to tune in.