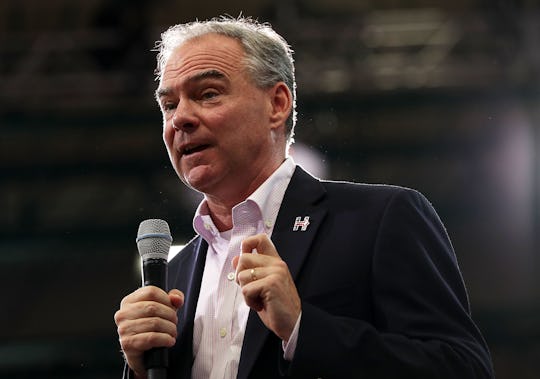 Alex Wong/Getty Images News/Getty Images
How To Watch The Vice Presidential Debate, Because It's One You Won't Want To Miss
The first presidential debate is right around the corner and all anybody can talk about is the long-awaited showdown between Hillary Clinton and Donald Trump. The Hill is estimating that it will be the most watched presidential debate, with over 100 million viewers expected to tune in. There's no doubt it will be an epic confrontation that will have people talking and tweeting for days. Coming in quickly on the heels of the presidential debate, though, is another important event: Virginia Sen. Tim Kaine will face off against Indiana Gov. Mike Pence in the first vice presidential debate of the 2016 election season on Oct. 4 at Longwood University in Farmville, Virginia — and thankfully, figuring out how to watch the vice presidential debate isn't actually all that difficult, as it will be aired on all major television networks.
Unlike their presidential counterparts, the nominees for vice president will only get to debate once before election day on Nov. 8. A debate between vice president nominees may not seem as vital as the three times Clinton and Trump will go toe-to-toe, however, it's actually very important to see what Kaine and Pence have to say. Clinton and Trump are reported on non-stop, while their running mates are able to fly more under the radar. These men will be second in command and one heart beat away from the oval office, so it's important to know what their stances are on the important issues before casting your ballot.
The vice presidential debate will be made easily accessible for anyone interested in watching Kaine and Pence discuss their ideals. The VP match up will be broadcast live on C-SPAN, ABC, CBS, FOX, and NBC, as well as cable news channels such as CNN, Fox News, and MSNBC. A growing number of Americans, though, no longer have televisions in their home. If you're one of these people, don't worry — you will still be able to catch it.
The debate will be livestreamed on a variety of social media platforms, such as Twitter, Facebook, and Youtube. Twitter is partnering up with Bloomberg to stream the debate, while Facebook will work with AOL to broadcast the event through Facebook Live. According to Variety, YouTube will broadcast coverage for PBS, Telemundo, and The Washington Post. Youtube's vast array of debate broadcasts is part of the election initiative #voteIRL, which works to get people to register to vote and actually cast their ballots on Nov. 8.
So amid all the talk about upcoming match-ups between Clinton and Trump, don't forget about the vice presidential show-down. Kaine and Pence each have the potential to be the right hand man to our next Commander in Chief, whoever that may be.