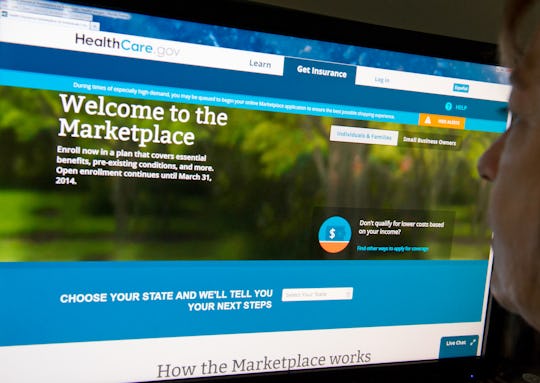 KAREN BLEIER/AFP/Getty Images
How Will Rising Insurance Premiums In 2017 Affect Families? It Depends On Where You Live
On Monday, the Obama Administration confirmed that healthcare insurance premiums will rise next year, and that many people may have access to just one insurer when they pick a plan on the healthcare marketplace. Healthcare has been a hot topic of debate throughout election season, but regardless of who gets elected, the Affordable Care Act is still in effect for a while. How will rising insurance costs in 2017 affect families? It depends on where you live.
Politicians and consumers already have problems with Obamacare, which they've been vocal about since the Affordable Care Act (ACA) was ratified in 2010. Since the United States doesn't have single-payer healthcare, the idea behind the ACA is that every American should have the ability to purchase affordable healthcare for themselves and their family, especially if they don't get health insurance through their employers. It's full of tax breaks that's supposed to make it easier for low income families, young adults, and small businesses to acquire healthcare plans. Ideally, this set-up is supposed to keep premium payments low, and the provisions have worked well for some. But it hasn't been as successful across the board as originally hoped — and now it looks like those lauded low premiums are rising.
Open enrollment begins Nov. 1 for coverage in 2017, and consumers looking ahead at available plans may have noticed that their rates have skyrocketed, depending on what state they live in. They may also notice that some insurance providers available to them last year have disappeared from the choice pool. That's because a number of insurers are no longer participating in Obamacare, according to CBS News. The federal government — who runs all but 12 of the exchanges — has promised to match those consumers whose present insurers dropped out of Obamacare, but the total number of insurers participating will go from 232 this year to 167 in 2017, according to CBS News.
Some companies that have pulled out, or reduced their coverage, include UnitedHealth, Aetna, and Humana — that means during this year's enrollment period, many people will be scrambling for new coverage.
The exact amount of the premium increase, or the availability of some insurance plans, depends largely on which state you live in. The average increase is expected to be 25 percent, according to the Obama Administration. Across the 39 states that have state-run exchanges, it could be more or less. "In Arizona, unsubsidized premiums for a 27-year-old buying a benchmark 'second-lowest cost silver plan' will jump by 116 percent, from $196 to $422, according to the administration report," CBS News, who reviewed the plan previews, explained. And Arizona is seeing one of the biggest dips in coverage, too: the number of available plans in 2017 will go from 65 to four, according to The Washington Post.
The Department of Health and Human Services pointed out that eight in 10 consumers will qualify for subsidies that should provide a cushion in the face of these price spikes, and that as the prices go up, more Americans will become eligible for tax credits, according to The Washington Post. Secretary of The Department of Health and Human Services Sylvia Mathews Burwell told The Washington Post that "efforts to undermine the ACA," by a Republican-dominated Congress have influenced the rise in cost. The department's Assistant Secretary for Public Affairs, Kevin Griffis, told NPR that they believe consumers will "ultimately be surprised by the affordability of the premiums, because the tax credits track with the increases in premiums."
But for families who have put a lot of time and effort into finding a plan through the exchange that they can afford and that gives them the coverage they need, the thought of paying more — or having to get a completely new plan in 2017 — is harrowing. For families with members who have chronic illnesses or complex medical needs, the struggle to get and keep coverage is very real. Even though families can't enroll or re-enroll in plans until Nov. 1, they can hop on to healthcare.gov (if their state participates in the healthcare exchange) and enter information about family members, income, zip code, and estimated healthcare costs to get an idea of what plans will be available in 2017.