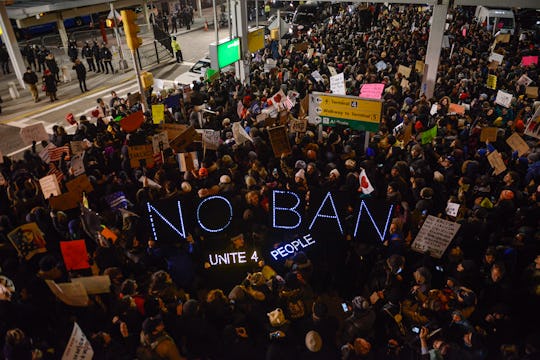 Stephanie Keith/Getty Images News/Getty Images
Families Are Heartbroken By Trump's Travel Ban
It's only been one day since President Donald Trump signed a controversial executive order that bans people from seven Muslim-majority countries from entering the United States — even if they currently have all of the proper documentation, green cards, and visas — and the impact of it is already taking a massive toll on many. A growing number of immigrants, refugees, and green card holders from Iran, Iraq, Syria, Sudan, Libya, Yemen and Somalia have been detained at airports across the nation and have even been blocked from boarding flights bound for the United States. A lot has happened in less than 24 hours and there are a lot of uncertainties and questions, especially for the many families that will be affected by Trump's travel ban as the futures for them and their loved ones hang in the balance.
Although Trump told reporters in the Oval Office on Saturday that the immigration order was "working out very nicely," many are still concerned and have their own personal reasons to disagree with him. Some have taken to social media to express their fears and how they've already been affected by Trump's travel ban.
Only time will be able to tell how severe the order's impact will be, but it's already clear that many families are very worried they won't be able to see their loved ones and are devastated by the uncertainties.
For one Iranian American father, his family member wrote on Twitter that he will no longer be able to see his children and grandchildren. One son is concerned that his father won't be able to return back to the United States because he traveled to Iran to go his own father's funeral. And an Iranian student is worried he won't be able to see leave the country to see his family. "I'm an Iranian PhD student in the US and I can't visit my family anymore," he wrote on Twitter. "I guess I'm going to switch to Masters and go back ASAP."
The response to Trump's executive order has been one that's overwhelmingly filled with worry and fear. Here are a few more stories people have shared on Twitter:
While there are still a slew of questions about the order's legality, the futures of many immigrants, refugees, and even American citizens with family members abroad remain in limbo. If they are already in the United States, they're stuck here and won't be able to leave to see their loved ones abroad. If they're not, then they can't return or come to the country that was built by immigrants. Understandably, these families affected by Trump's travel ban are anxious about their futures and the impact is already heartbreaking.