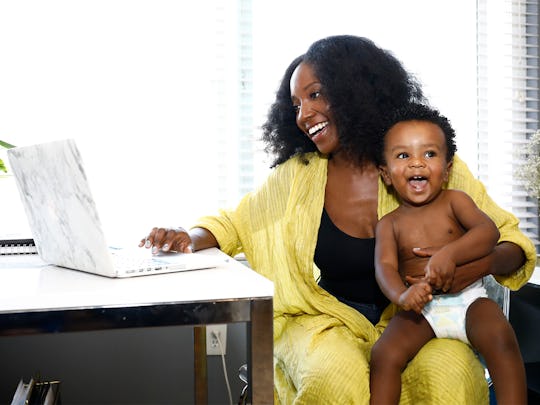 Courtesy of Tonya Rapley
I Babyproofed My Business So I Could Work *And* Parent Without Mom Guilt
As the daughter of two military veterans, I grew up loathing my parents' occupational inflexibility. As a child, I wished my mom was like the other mothers who could volunteer for field trips or pick their children up from school. Now as a mother myself, I've come to understand that my parents' professions allowed my sister and I to enjoy a lifestyle that's enviable to many.
Whenever I reflect on my childhood dreams and ambitions, the truth is that I didn't know what I wanted to be when I grew up — I just knew I wanted to be free. Free to live life on my terms, free to spend time with my children, and free to parent how I felt was best for my family.
That quest for freedom led me down a path of unsuccessful business ideas, self-discovery, student loan and personal debt — and it also led me to the harsh reality that I didn't enjoy the same financial stability as an adult that my parents offered me as a child. I enjoyed my work, but knew I needed to achieve financial stability for myself before I started a family of my own.
This realization inspired me to start my company, My Fab Finance, in 2013 while working for a New York City-based non-profit and finishing graduate school. The goal of My Fab Finance has always been to help people write their own financial success story so they can live lives they love. Two years after launching my business, I'd saved enough money and generated enough recurring revenue to resign from my day job and become fully self-employed.
Things were going great for my business — I'd just completed the manuscript of my first book and was planning an aggressive book promotion tour. I had built a lean but strong team to support our goals and initiatives. My speaking schedule was booked out for months, and I landed my very first spokesperson opportunity. Then one day after I returned from a speaking engagement, I found out I was pregnant. Immediately, I knew much of the hard work I'd been doing all along was in preparation for this moment. Now, I could experience motherhood on my own terms.
But then the anticipated morning sickness hit and my typical productivity was crippled. I canceled speaking engagements and news appearances. I canceled my book tour and reworked plans to promote the book using social media. Eventually, I decided to take six weeks off from my work and lean on my team from support, which is exactly how I learned just how strong my business was.
Even in the midst of this challenging time, I knew I was living out my plan. As I shuffled to doctor appointments and researched morning sickness treatments, I was aware that I was experiencing pregnancy as I needed to and was allowing my body the grace necessary to support the life we were creating.
After my first trimester, my pregnancy was pretty uneventful and I resumed working, speaking, and flying. We were surpassing our revenue goals, but a new anxiety began to set in as I wondered if my business would survive motherhood.
The weeks leading up to my delivery, my team and I began planning for my maternity leave. My goal was to spend three months settling into motherhood before resuming a heavy workload, and six months before returning to the road. During this time, my team and I also started talking about how to baby-proof my business with the goal of being able to spend quality time with my family without feeling like my business is suffering.
For My Fab Finance, baby-proofing my business meant separating my revenue streams from my schedule. To do this, we launched a subscription-based membership program to deliver content and support my audience in place of me doing one-on-one coaching. We designed a new sales process that introduced people to my business in a way that's authentic, but also automated. My speaking and consulting rates increased so that I am able to take on fewer projects, while generating more revenue. We established affiliate partnerships that allow us to monetize our audience by introducing them to brands and products we support.
Now, thanks in part to these mindful changes, my life looks very different than it did when I first started my business. I actually have more time to devote to myself and my family while surpassing revenue goals.
A few months ago, I realized we needed the same level of structure in our family life as I had with my business, so I established nap and bedtime routines. This change in our personal life has led to better sleep and the opportunity to ritualize intimate moments, which gives me something to look forward to every night no matter how the day goes.
I look forward to the way my son smiles at me with a relaxed grin as I put his Pampers diaper on and give him a quick massage. I love his smell as I embrace him and whisper affirmations in his ear before putting him down for the night. It's our moment, and it's so beautiful to have the freedom to enjoy it together.
As someone who values freedom, I used to associate structure with restriction. While that's true in some cases, now that I'm a mother I realize that structure can be empowering and enjoyable. And while I'm not immune to mom guilt (it still seeps in), having this structure has helped me learn to parent without terrible guilt of missing out on time with my family.
I can honestly say I'm the mother I always wanted to be and I'm becoming the businesswoman I want to be. But just when I think I have it all figured out, something will happen that creates new challenges, like my son hitting a new developmental milestone or our childcare schedule needing to be adjusted.
And as each challenge is met, I settle into my role as a mother with more comfort and less anxiety. I'm learning to trust myself more and I'm learning that while changes are bound to come my way, I am fully capable of navigating them.
This post is sponsored by Pampers.