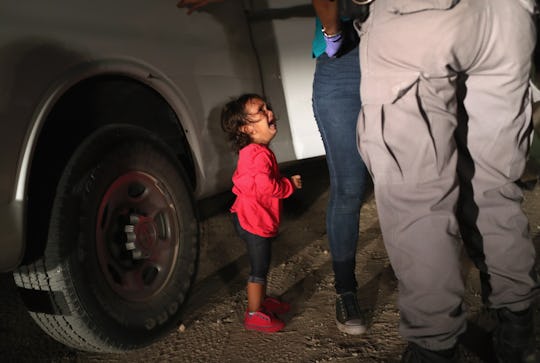 John Moore/Getty Images News/Getty Images
Immigrant Toddlers Have Reportedly Been Ordered To Appear In Court Alone
The repercussions of the Trump administration's "zero-tolerance" immigration policy have taken over the media spotlight recently — and for good reason. The controversial policy led to thousands of immigrant parents getting separated from their children, who were then placed in detention centers away from their caregivers, as the adults awaited trial after entering the country without proper authorization. Although a federal judge recently ordered border officials to reunite families — and President Donald Trump signed an executive order ending family separations at the border last week — there are reports now that immigrant toddlers are being ordered to appear in court alone.
As PBS reported, it's not necessarily a new practice to require unaccompanied minors to go through deportation alone. However, because of the Trump administration's short-lived, but controversial, policy that separated children from parents, it's happening on a much larger scale — and to more young children, including toddlers. So on top of the trauma of escaping potentially terrible circumstances in their home countries and being separated from their parents after arriving at the border, these children are expected to represent themselves in court without their parents there.
This week, The Texas Tribune reported that children as young as 3 are being ordered to appear in immigration court alone. Lindsay Toczylowski, executive director of Immigrant Defenders Law Center in Los Angeles, told the newspaper that her team recently represented an unaccompanied 3-year-old in court, "and the child — in the middle of the hearing — started climbing up on the table." And that does sound about right, as parents know all too well, it's sometimes impossible to get a 3-year-old to sit down and be quiet for five minutes straight.
Toczylowski explained, according to The Cut, that typically, parents are tried along with young children. That way, as Toczylowski explained, they can describe the often violent situation/circumstances that caused them to seek asylum in the United States in the first place. Which makes complete sense, if you think about it. "The parent might be the only one who knows why they fled from the home country, and the child is in a disadvantageous position to defend themselves," Toczylowski said, according to The Cut, adding:
The kids don't understand the intricacies that are involved with deportation and immigration court. They do understand that they have been separated from their parents, and the primary goal is to get back with people they love.
Expecting children to defend themselves in court is "unconscionable," Dr. Benard Dreyer, director of the division of developmental-behavioral pediatrics at New York University School of Medicine, said, according to USA Today. "It's certainly grossly inappropriate," Dreyer added, according to the news outlet. "I'm ashamed that we're doing this."
Needless to say, Twitter is equally disgusted by the thought of toddlers testifying alone in immigration court. "There will be accountability when this dark chapter is over," one Twitter user wrote.
Another person tweeted, "I can find no nice way to say how this sickens me."
Yet another Twitter user wrote, "Are these toddlers the hardened criminals Trump crows about? Does he think they're going to take American jobs? Bull. It's textbook demagoguery."
Another person wrote, "I have no words left for how horrific the border crisis is. What a complete travesty of justice."
If you're having a hard time wrapping your head around a 3-year-old appearing without his/her parents in immigration court, you're certainly not alone. Though it's difficult to imagine the circumstances from which many of these families are fleeing in the first place — from the high rates of violence, poverty, drugs, gangs, and more, as USA Today noted — there are ways you can help immigrant families. For starters, you can donate to the Refugee and Immigrant Center for Education and Legal Services (RAICES), which provides free/affordable legal services to immigrant families, unaccompanied minors, and refugees in the Texas area. You might also consider donating to the Detained Migrant Solidarity Committee, which has a fund specifically to help post bond for immigrants, pay for phone calls to family members and lawyers, and more. In spite of the broken immigration court system, with donations can all help migrant families reunite and work toward the lives they deserve.