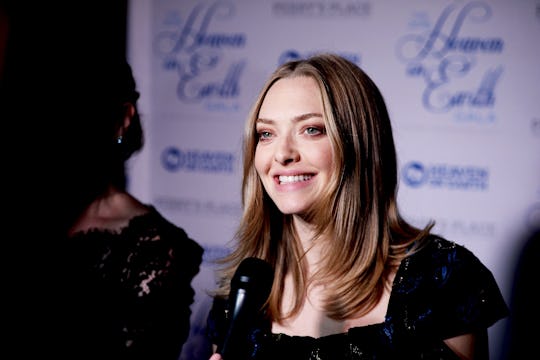 Matt Winkelmeyer/Getty Images Entertainment/Getty Images
Is Amanda Seyfried Having A Boy Or Girl? She's Expecting Her First Child
After showing off an adorable baby bump at a Givenchy press launch, Mean Girls star Amanda Seyfried recently revealed that she and fiancé Thomas Sadoski are expecting their first child. While fans were delighted by the news, they — naturally — had a bunch of pressing, follow-up questions about Seyfried's pregnancy: namely, is Seyfried having a boy or girl? How has pregnancy been treating her? What names do they have in mind? When is Seyfried due?
Considering that Seyfried only announced her pregnancy at the end of November, these are early days for the expecting couple, and they haven't shared too much information with the public yet. So far, Seyfried and Sadoski have remained tight-lipped about the baby's gender, and they haven't shared any possible baby names with fans (which, hey, you totally can't blame them for — can you imagine the number of unsolicited opinions they'd get from nosy fans?).
One thing is for sure, though: Seyfried has been looking forward to this pregnancy for quite a while now. In 2014, when Glamour asked the Mamma Mia actress where she saw herself in five to 10 years, she answered, "With child!" The year after that, she told Marie Claire,
I keep feeling like my eggs are dying off. Once you've turned 30, you might only have a 20 per cent of getting pregnant [each cycle]. And that's if everything is working well. Isn't that crazy?… I need to get on it… I want a child, badly. I've been feeling it it for like, two years. I'm not ready, but nobody is ready.
As for pregnancy's ups and downs, Seyfried's experienced a few already. At the same event where she debuted her bump, she told reporters that her sense of smell was especially heightened. The worst offender? Body odor. "Normally body odor is, 'Uh, it's alright.' But I cannot tolerate it anymore. If someone has it, I have to leave. I have a hard time with that," she said on Wednesday, according to People. But that's not the only thing her nose has picked up. She also told reporters, "I can smell electricity. I swear to God I can smell the TV."
Fortunately for Seyfried, nothing has made her too sick — but her sweet tooth has made quite the comeback. "It's pregnancy, too, I blame it on that," she said on Wednesday. "I didn't think it was going to come back this harsh, but it did."
Still, Seyfried said she had been looking forward to everything that came with pregnancy, and she is clearly overjoyed to be expecting her first child. While the public may not learn the baby's gender or name for a long while yet, hopefully Seyfried will share a few more relatable stories with us as her pregnancy unfolds.