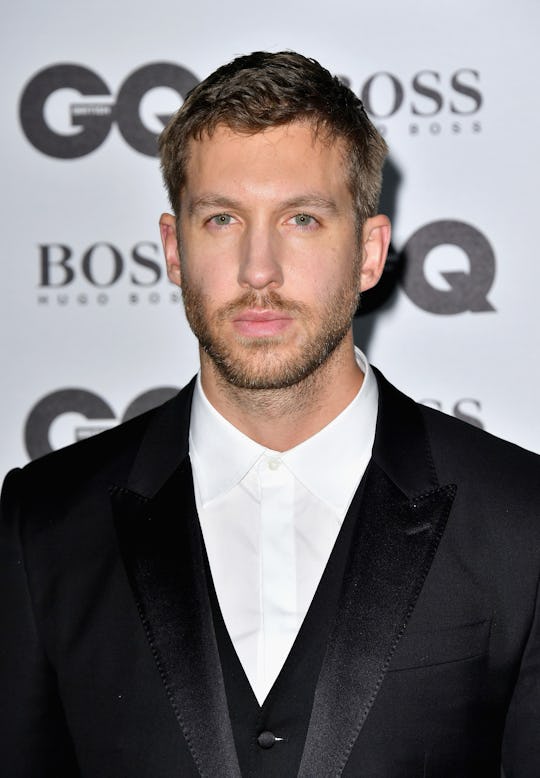 Gareth Cattermole/Getty Images Entertainment/Getty Images
Is Calvin Harris' 'My Way' About Taylor Swift? He Hasn't Denied It
Scottish DJ Calvin Harris released his latest single Thursday, and naturally, pretty much the entire Internet is wondering today if it's a dig at his super famous ex-girlfriend. Is Calvin Harris' "My Way" about Taylor Swift? The song certainly sounds like it could be. According to The Independent, the lyrics hint at a love gone bad, including lines like "I made my move and it was all about you/ Now I feel so far removed," and "You were the one thing in my way."
Of course, writing revenge-y breakup songs is certainly nothing new for Taylor Swift — she's written countless hits about her former partners — but if Harris is hitting back at their backup through his music, it might be one of the few times that Swift has ended up on the other end of that exchange. Might Calvin Harris actually be "Taylor Swift-ing" better than Taylor Swift herself? That's a pretty tall order from the queen of breakup songs, but he might just be doing it. While Swift promptly moved onto a new (but now-reportedly-over) relationship with actor Tom Hiddleston, Harris has instead focused on his music, releasing one hit after another. And with "My Way," it doesn't sound like he intends on slowing down anytime soon.
While both Harris and Swift initially appeared to be sticking to the "friendly exes" script often used by celebs after a high-profile breakup, it didn't take long before reports of a feud began brewing. According to The Mirror, both Harris and Swift unfriended each other on social media about a month after the split, and appeared to delete most of the posts referencing their relationship. After news of Hiddleswift became public (thanks to those canoodling photos of the couple in Maine), Harris reportedly responded to inquiring fans on Instagram asking about the split, saying, "she controlled the media and this situation, I had no idea what was going on. So that kind of makes it a lot worse from my perspective."
But that wasn't the only time Harris threw some major shade Swift's way. According to Us Weekly, after Swift's rep confirmed that she had contributed to Harris' hit, "This Is What You Came For," Harris took to Twitter to vent his frustration over the fact that Swift's team had decided to go public with something that she'd reportedly originally wanted to keep under wraps (she used the pseudonym Nils Sjoberg in the writing credits). About Swift's involved in the song, he started out pretty complimentary in the now-deleted series of tweets, and wrote,
...She sings on a little bit of it too... Amazing lyric writer and she smashed it as usual. I wrote the music, produced the song, arranged it and cut the vocals though. And initially she wanted it kept secret, hence the pseudonym.
Hurtful to me at this point that her and her team would go so far out of their way to try and make ME look bad at this stage though.
But, clearly feeling like that wasn't enough of an explanation, he continued, and seemingly addressed his ex directly — and her high-profile feud with Katy Perry (!):
I figure if you're happy in your new relationship you should focus on that instead of trying to tear your ex bf down for something to do. I know you're off tour and you need someone new to try and bury like Katy ETC but I'm not that guy, sorry. I won't allow it. Please focus on the positive aspects of YOUR life because you've earned a great one. God bless everyone have a beautiful day.
But according to Elle, the two may be attempting to bury the hatchet about the song. In a video Swift posted on Instagram recently, the singer can be seen sitting in the front row of a Tommy X Gigi fashion show, singing along as her model bestie Gigi Hadid walks down the runway to — what else? — "This Is What You Came For." The significance of the clip wasn't lost on Harris, who — gasp — 'liked' the post from his own IG account.
Of course, this was all before Harris released his new single, so there's no word on whether or not the Tayvin feud has been reignited. Perhaps Harris called Swift to give her the heads up on the song (though, judging by the whole Kimye vs. Swift debacle, it may or may not have helped if he did), or perhaps hearing Harris use their relationship as songwriting fodder is just fair game, especially since it's something Swift has done for years.
But despite his no-holds-barred social media comments, Harris seems to be remaining intentionally vague about whether or not "My Way" is a breakup song. In an interview with iHeartRadio ahead of the song's release, he said that the meaning behind the song wasn't specific, and that it'd been in the works for years (presumably suggesting it could have existed before he dated Swift):
[The] song's kind of about breaking out of a situation that you thought was a good thing. Then, you're way more comfortable out of it. And it could be anything. It could be a job, or it could be a relationship. I had kind of the idea for the concept for a few years, but I didn't know how to work out how it sounded.
That may or may not be the case, and unless he feels like getting super candid on Twitter again, we might never know for sure. But if "My Way" is about Swift, he's clearly shown that two can play at the breakup song game. Besides, you know the next Taylor Swift album is likely going to contain at least a few zingers for Harris as well.