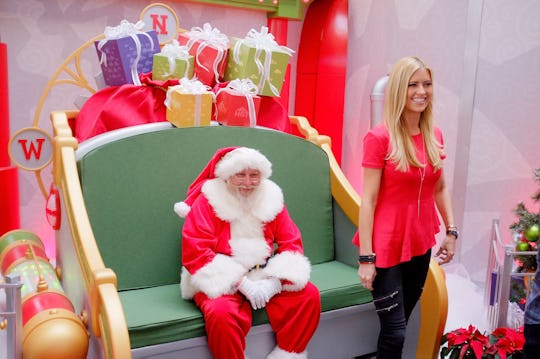 Jerod Harris/Getty Images Entertainment/Getty Images
Is Christina El Moussa A Feminist?
Despite filing for divorce earlier this year, home renovation duo Christina and Tarek El Moussa will head back to HGTV with an eighth season of their breakout show, Flip Or Flop. The star duo allegedly began filming for their hit series last month, according to a post on Tarek's Instagram account. Fans, of course, can't wait for their return, but everything the duo has been through have some asking: Is Christina El Moussa a feminist? The 33-year-old real estate investor hasn't identified as such publicly.
Not much is known about El Moussa's views on feminism. The Flip Or Flop personality hasn't spoken out about where she stands on the movement or important policy issues like equal pay and racial justice. But the mom of daughter Taylor, 6, and 21-month-old son Brayden has shared memes on Instagram related to self-empowerment. One post from April says in big black type, "Stay Strong. Make them wonder how you're still smiling," while another, posted a month later, reads "No time for bullshit when you're building an empire."
That last meme may not be so surprising for the California native. In addition to being a TV personality, El Moussa is a seasoned real estate strategist with businesses under belt.
Before joining the HGTV family, El Moussa and ex-husband Tarek, 35, ran their own real estate agency in Orange County, California, according to Hollywood Life. The former couple also launched their own construction and design firm they use to buy, renovate, and flip distressed homes in the Southern California area — the focus of their Flip Or Flop series. But a lot has been left up in the air since their separation and subsequent divorce filing, although the real estate business, Tarek and Christina: The El Moussa Group, is still in business, according to Pop Sugar.
El Moussa may also add "published author" to her list of credentials. According to Fox News Entertainment, the HGTV star, who turns 34 next month, will release a motivational book "about life lessons I've gone through and how I've overcome them," she told the station in an emailed statement. Maybe she'll talk more about her personal views on women's rights and empowerment at length in the book, but that hasn't been confirmed.
Christina and Tarek's business seems to be thriving despite their personal issues, and it's great they can continue to work together on Flip Or Flop. But this time also gives El Moussa an opportunity to shine on her own.