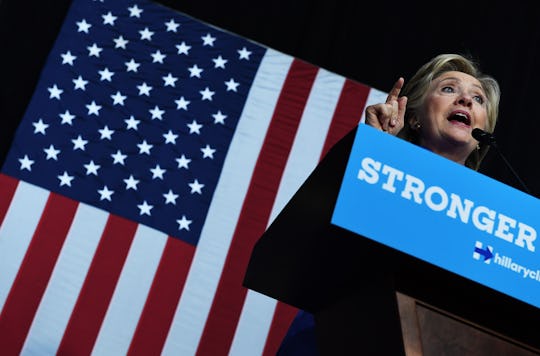 JEWEL SAMAD/AFP/Getty Images
Is Hillary Going To Lose, According To Recent Polls? It's Still Anyone's Game
Well, we are less than a week away to Election Day on Nov. 8 and the race between Democratic presidential nominee Hillary Clinton and Republican nominee Donald Trump couldn't get much tighter. In one of the most contentious and unpredictable presidential elections in American history, the polls seems to change on a dime with every passing day. While many Democrats are worried that Hillary Clinton will lose, according to recent polls... there are six more days to go. And if this presidential election has taught us anything it is this; a whole lot can happen in six days.
According to a recent poll conducted by The Washington Post-ABC Tracking Poll between Oct. 27 and Oct. 30, the two candidates remain essentially tied. The poll was conducted by telephone to a random sampling of 1,773 adults, and found that Trump was slightly ahead of Clinton with 46 percent over her 45 percent. Shere Trump seemed to have a surprising edge over Clinton, however, was in the (wait for it) honesty category. When respondents were asked which candidate was the most honest and trustworthy, 46 percent felt Trump was the more honest candidate while a paltry 38 percent felt Clinton was the most honest. To be fair, when asked individually back in September about the honesty of the candidates, the majority of respondents felt neither of them were honest.
FBI Director James Comey's announcement Friday that the FBI was reviewing emails (found in an unrelated case the FBI were investigating involving former New York politician Anthony Weiner) that could pertain to Clinton, have clearly done significant damage to Clinton's popularity. Comey announced that the FBI had closed the investigation into former Secretary of State Clinton's use of a private server to send emails back in July. His decision to announce his review of these new emails was not supported by the Justice Department, the Attorney General, or the Deputy Attorney General. In fact, Comey's decision to send a letter to Congress about these emails went against a long-standing policy of both the FBI and U.S. Justice Department to avoid releasing politically sensitive information within 60 days of a general election.
As the Clinton camp struggles to come back from Comey's FBI landmine, a poll conducted by Real Clear Politics still has her with a slight edge over Donald Trump. Real Clear Politics takes a scientific average of all polls, and found that betwen Oct. 22 and Nov. 1 Clinton still had a marginal lead over Trump of 1.7 percentage points.
As the hours tick away between now and Nov. 8, this race will most likely continue to be one of the wildest rides we have ever witnessed.
Hold on to your hats, kids, it's going to get crazy.